What next for Gibraltar?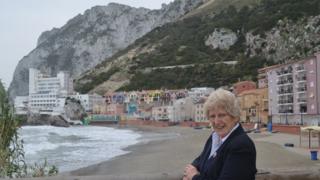 The sovereignty of Gibraltar continues to be disputed by the Spanish, with tensions mounting after a series of incursions into the island's territorial waters. So what is it like to live in this tiny British outpost nicknamed the Rock?
Whether on television, in the papers or on a postage stamp, the image of Gibraltar - or more to the point, its rock - is known throughout the world.
This tiny British territory, just six square kilometres in size and with a population of just under 30,000, is the last British foothold in Europe, ceded in perpetuity by Spain through the Treaty of Utrecht in 1713.
At a high point on the Rock, 426 metres above sea level, I look down across the bay from the west side of the rock.
To my left, if it were not so misty, I would see the north African coast. There are a lot of boats, big ships, in the bay, one setting out on its voyage to north Africa.
I hadn't been up to see the apes - in fact Barbary macaques - for years. Jumping about on their rocky fastness, they were a magnificent sight.
"The apes that you see around us are all part of the legend," says local taxi driver John Charles Guy, "and this legend was born by Sir Winston Churchill who said if ever the apes left Gibraltar, Gibraltar would stop being British."
When John was a boy, relations with Spain were at their most strained. In 1969, Spain - then under General Franco - decided to close the land frontier with Gibraltar. It would remain so until 1985.
"Gibraltarians are very very proud of being British. It would've been very easy for us to go to the Spanish and the border would've opened up. But yet we've stood by our queen and we've stood by the British government and we've stood by Britain," he says.
In 1954 a visit by the young Queen Elizabeth had caused great offence to Franco. He closed the border in retaliation. It was to be Her Majesty's first and only visit to Gibraltar.
In a small cemetery at the edge of town, I see the last resting place of officers and men who died in or after the battle of Trafalgar.
Here I meet Trevor Bickerstaff, the founder of Gibraltar's New Movement, who is gathering signatures for a petition to persuade the Queen to pay an official visit.
He explains: "She would receive an enormous response by the people of Gibraltar. Everybody in Gibraltar would probably even bake scones and get the best tea out and serve it to the Queen when she comes.
"Now, if she could go to Malta next year [for the Commonwealth Heads of Government Meeting in November], she could stop by in Gibraltar, too. We feel here in Gibraltar that, because of the Foreign and Commonwealth Office, we're not actually being noticed that much."
The Queen's representative in Gibraltar is the governor, Sir James Dutton. In a rare interview, at his residence in the centre of town, he tells me the British government is firmly committed to Gibraltar.
He says: "The UK has always made it clear, and none more so than in recent years, that it completely supports the right of the people of Gibraltar to self-determination.
"There have been some referendums over the years and they have overwhelmingly supported the status quo, that is the sovereignty of the UK."
Sir James says: "The UK has pledged that, not only will it not consider a change to those sovereignty arrangements without the express wishes of the people of Gibraltar, but it won't even enter into negotiations on that subject without the consent of the people of Gibraltar."
Walking down Main Street is an interesting cultural journey. Although all the people are British, almost all of them are speaking Spanish.
"Gibraltar's a very special place," muses one young man. "We've got the British system, as it were, legal and otherwise, but at the same time we're sitting in the sun. That's pretty awesome.
"How does one feel about being Gibraltarian? It's weird. Identity is something that you pick, very often comes from a comparison to a polar opposite. In our case, our history involves having Spain beside us. There's a lot of bad history, which obviously reinforces the identity as a Gibraltarian and helps to reinforce the identity as British," he adds.
For the Gibraltarian government there is a big fear. With a general election in the UK on the horizon and UKIP riding high in the polls, there is the looming threat of a British exit from the European Union.
Gibraltar's Chief Minister, Fabian Picardo, tells me this is "an existential issue for Gibraltar, in economic terms".
He says: "Of course, Gibraltar would always be able to survive but I don't think that Gibraltar would be able to thrive, economically, should we be outside the European Union, as we are able to thrive today, within the European Union, when we can tell businesses from third countries to come to Gibraltar to access the European Union and create jobs here. "
Gibraltar, it seems to me, is a place of contrasts. At once defiantly British, yet effortlessly European and cosmopolitan; dripping in epic tradition and history, yet searching for a place in the modern world; as solid as the rock upon which it stands but striving to present a new face to a rapidly changing world.
And, above all, having to contemplate an uncertain future in which it, and its mother country, may find themselves outside the EU.
Elizabeth Butler-Sloss guest edits BBC Radio 4's Today programme on Wednesday 31 December, 06:00-09:00 GMT - or listen again online.