Peshawar attack condemned by UK leaders and Asian groups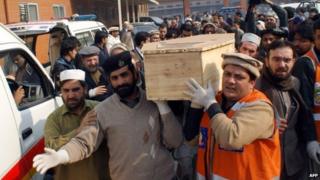 Politicians and Asian groups in Britain have condemned the attack by the Pakistani Taliban on a school in Peshawar in which 141 people died.
Prime Minister David Cameron called the killings "shocking" and "horrifying".
Ramadhan Foundation chief executive Mohammed Shafiq said terrorism was "a cancer within Pakistan" and needed to be "removed permanently".
Labour MP Anas Sarwar, whose father is a Pakistani provincial governor, said the deaths were "heartbreaking".
He said it "reminds us what we take for granted every day - the right to send our kids to school to learn with no fear".
Some other prominent Britons of Asian descent criticised the Pakistani government for failing to prevent the attack.
Khalid Mahmood, the Labour MP for Birmingham Perry Barr said: "Over the last six to nine months, there has been total disarray in the national government... There is no protection for these people.
"They ought to have control in a place like Peshawar. Not to be in control is an absolute abdication of responsibility."
He said it was "ludicrous" for the UK to continue supporting "this so-called democratic government".
'Utterly heartless'
Mr Shafiq, whose organisation works with young British Muslims, said he "abhorred" the Pakistani national leadership. However, he said the UK government should support it in the interests of defeating terrorism.
"There is no justification for this barbarism and we as Muslims reject these utterly heartless people. We urge all Pakistanis to unite against the Taliban and all terrorist groups," he said.
Deputy prime minister Nick Clegg said he was "shocked and appalled by the unimaginable horror taking place in Pakistan".
Labour leader Ed Miliband said it was "appalling that school children were targeted in this murderous attack".
The BBC's Asian Network asked listeners for their views. One of the most popular comments posted on its Facebook page was from Balvinder Barry Singh who said: "Innocent kids are being murdered... Where are the anti-Taliban protests on the streets of Britain? The protests would be quick if it was Israel."
Another popular comment, by Narinder Twiggy Kaur, criticised the station's focus on events in Peshawar, saying: "Another way for Asian Network to get us Asians to argue. Well done. Should cover other topics not just Muslim topics. Not fair on Muslims."
Enemy within
Kully Singh said: "The people that did this are neither Muslims or human. They are pure evil."
Umair Sajid said: "How can these men that claim they are Muslims kill innocent children that want to get an education.
"As a Muslim I feel absolutely disgusted about this."
Mohammad Zahid Qureshi said: "If anything this attack just goes to prove that they [the Taliban] couldn't give a damn about Islam and just use it as a pretext to justify their own psychopathic actions."
Rosena Dawar said many people were "looking at this the wrong way".
"There is a war going on between the Taliban and the Pakistani army. This is not a terrorist act in the same way as Beslan or the Sydney siege. It was actually an act of war not terrorism," she said.
Ansar Ali suggested that the Pakistani Taliban was a monster of the Pakistani government's own creation, saying: "Pakistan is its own worst enemy.
"We have an enemy within, bred from our own Pakistani government."
Analysts say Pakistan has been widely accused of using militant groups as strategic assets to exert control in Afghanistan and counter Indian influence in the region.
Pakistani Prime Minister Nawaz Sharif, who has gone to Peshawar, has condemned the attack as a national tragedy.