Alan Henning's family prepare for 'hard' Christmas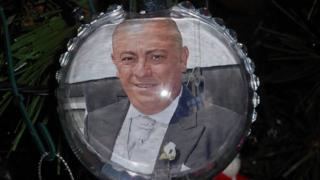 In December last year, Alan Henning said goodbye to his wife and two children as he headed off on a convoy to Syria.
His journey to deliver aid to civilians caught up in brutal fighting between the Syrian government and rebel forces meant he would miss Christmas with his loved ones for the first time.
They would never get to spend Christmas with him again.
From Bury in Lancashire to Prestatyn in North Wales, members of the Henning family have been decorating their trees again this December.
Jenny-May Henning has made them all an extra piece - a bauble featuring a picture of her uncle Alan, his face smiling at a family wedding amongst the branches.
It's a small gesture, but there is no obvious way to mark the man who's missing in their family this year.
"This Christmas will be hard," says Alan's other brother Reg. "It's our first without him, but he's everywhere in some ways."
Alan, a 47-year-old Salford cabbie better known as "Gadget" by many because of his ability to fix things, was murdered by the group calling itself Islamic State or IS on 3 October.
He had been paraded on the internet three weeks earlier after the death of another Briton, David Haines.
In the time that passed between the first video and his murder, his family, friends, even cynical journalists and analysts were allowed to think that the pleas from around the world to spare him might work. But they didn't.
"That was the worst three weeks of my life," says Reg.
But what then? How does a family cope when the media storm moves on - when people aren't clamouring to speak to them about Alan every day and his photo is no longer on all the front pages?
Ever the pragmatist, Reg says that the media were becoming a bit of a nuisance - he was glad to be rid of most of them.
He maintains that thoughts of Alan are far from gone, that the nature of his murder and the constant presence of IS in the news means that memories of his death are always there.
"It's too raw; you don't forget," he says. He and the family are trying to keep busy and to do normal things - he retired earlier this year but is decorating his granddaughter's bedroom on one day I see him, baking the next.
Alan's close friend Kasim Jameel, who led the convoy on which he was kidnapped, is a little less pragmatic about the media storm that surrounded Alan's kidnap going public.
"They were at my mum's, my work - it was a frenzy," he says.
"But about a week after the murder most of the press moved on to other things. The media pretended they were our friends but I've never heard from most of them since because it was just a story for them - now there is another story, tomorrow there will be another.
"But for me and for Alan's family it's been a living nightmare for 12 months and it will likely be forever."
Alan was on his fourth convoy to Syria when he was kidnapped on 27 December, a week after he left his family.
Kasim remembers leaving Manchester that day, the excitement of what was their largest group yet travelling overland - an aid mission, but also a road trip guaranteed to be fun, because Alan knew how to have a laugh along the way.
"It was such a happy, joyful occasion knowing what we were doing. Everyone was excited, doing last-minute prep. Twelve months on it's still not really sunk in how that convoy ended."
I remember Reg asking about the video of Alan's murder, just after his death, when we were driving back from visiting the tributes that poured out in his home town of Eccles, Greater Manchester.
I had seen it and he hadn't. He wanted to know some details but couldn't bring himself to watch.
He tells me he's still not seen it.
"I've not watched any of the [beheading] videos to be honest, I couldn't. If I had watched one, it's going to put it in your mind that this is what's happened to Alan.
"My daughter has, Samantha did. The reason she said she watched it was to make sure it was him, to prove it was true. And then she regretted it."
There was a long wait for a memorial for Alan, held privately in Eccles on 22 November, and Reg says that has brought some sort of closure. He says he's sleeping better now but he thinks about him every day.
"On Facebook someone put up a picture of Alan; something new is there every day. His name always pops up.
"We're not going to forget him that easily. Not that we want to."
Alan's memory is being kept alive positively in numerous charity projects carrying his name, less positively because he is often mentioned when IS militants commit another atrocity.
"He should never be forgotten," says Kasim.
"He made sacrifices that even governments and huge charities couldn't. He is a man that stood for everything good - and everything that is right with humanity."
Follow Catrin Nye on Twitter @CatrinNye