Child sex abuse inquiry panel 'could be disbanded'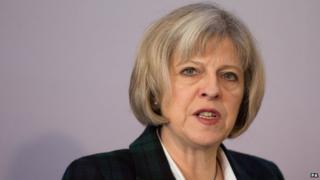 The independent panel set up to support the planned public inquiry into historical child abuse could be disbanded, the BBC understands.
Home Secretary Theresa May has written to panel members saying three options to give the inquiry full statutory powers are being considered.
Only one option does not require the panel to be disbanded.
A Home Office spokesman said Mrs May wanted to balance making progress "with the need to get this right".
The panel, which has started work, still has nobody to chair it after the first two nominations stood down.
An inquiry source told the BBC panel members have been told their jobs will go in the new year and that they will be invited to apply for positions on the new panel.
'Answers they deserve'
The inquiry has been set up to consider whether "public bodies and other non-state institutions have taken seriously their duty of care to protect children from sexual abuse in England and Wales".
In the letter, seen by the BBC, Mrs May told panel members: "I appointed each and every one of you for your experience, your professionalism and your undoubted commitment.
"I know it has not been easy, that you are working in an incredibly sensitive and difficult subject area and that some of you have faced significant personal criticism.
"But I hope you will agree that the confidence of survivors is paramount. If we are to give them the answers they deserve, then we must have a process in which they can have complete trust."
She says in the letter that this means a 'degree of uncertainty' for the panel but that if there was a newly-constructed panel, "you will of course be free to participate in it".
The home secretary also said she would leave it to the panel to decide whether to continue its work into January or suspend its activity.
Theresa May has been meeting survivors of child abuse, some of whom have demanded she sack specific members of the panel.
The survivors have a number of concerns about conflicts of interest and previous communications some panel members have had with abuse victims.
Mrs May said last week that the inquiry should have the powers of a statutory inquiry in order to compel witnesses to give evidence.
Speaking to the Commons Home Affairs Select Committee last week, she said this could either mean waiting for a chair to be appointed, who would then request such powers, or setting up a new inquiry panel under statutory terms.
The first two nominations - Fiona Woolf and Baroness Butler-Sloss - resigned following claims about their perceived closeness to establishment figures.
'Protect the vulnerable'
Inquiry panel members are understood to be angry their work is threatened.
A leaked reply from Sharon Evans, who runs a children's charity and suffered abuse herself, says that "halting the inquiry at this point would send a very negative message to so many people we have already met and who we have promised they can have confidence in us to do the right thing".
She has claimed the government prevented the panel from responding to the "small number of individuals and survivor groups engaging in personal attacks on panel members".
Mrs Evans added: "The panel members are equally brave and caring professionals who are committed to uncovering the truth. I feel it is not a good choice to let panel members stand down because of the influences of a small group of people."
A Home Office spokesman said: "The home secretary is determined that appalling cases of child sexual abuse should be exposed so that perpetrators face justice and the vulnerable are protected.
"She is absolutely committed to ensuring the independent panel inquiry into child sexual abuse has the confidence of survivors.
"The home secretary is also clear that we have to balance the need to make progress with the need to get this right."
Shadow home office minister Diana Johnson said: "We are now in a position where there is no chair and no panel, while no work has been done on examining the horrible crimes of the past or into the flaws in the current child protection system.
"Theresa May needs to take responsibility for the utter failure to get this vital work off the ground over such a long period."