Thatcher feared transfer fee impact on hooligan efforts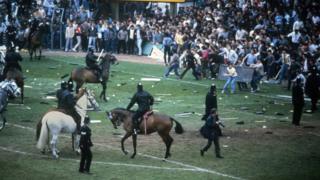 Prime Minister Margaret Thatcher was concerned high football transfer fees were preventing clubs from tackling hooligan and stadium safety concerns, papers from the National Archives show.
Government moves to combat hooliganism came to a head in 1985 after outbreaks of violence at a series of matches.
The PM said a video of rioting fans was "shocking" and wanted "radical" action.
It was suggested singer Elton John, the then Watford chairman, could help get the "enough is enough" message across.
Football hooligans had been concerning the government for years. The newly-released papers show a riot at a Luton v Millwall match on 13 March 1985 sparked a fresh series of discussions.
A worry that hooligans might disrupt the 1986 World Cup in Mexico saw ministers investigate a possible travel ban.
Meanwhile, ground safety was thrown into the spotlight after the deaths of 56 people in a fire at Bradford City's Valley Parade stadium in May.
'Right priorities'
A note of a meeting between the prime minister, the football authorities and police on 31 July 1985 confirms Mrs Thatcher felt responsibility for safety at matches laid with the clubs.
She said the Football Association's decision to lift penalties imposed after the violence at the Luton v Millwall match made it "difficult for the public to have faith that the authorities took their responsibilities seriously".
Mrs Thatcher added the "size of transfer fees still being paid suggested that football had resources which could be better devoted to tackling the problem of hooliganism and safety; it was a matter of choosing the right priorities".
Writing to a police officer who had shown her a video of crowd trouble at a Huddersfield v Leeds match, Mrs Thatcher said the footage was "genuinely shocking and a powerful reminder of the scale of the problem... and demonstrates the need for radical measures".
The documents in the National Archives show plans for a stadium alcohol ban and more effective police and court action were progressing during 1985, but ministers struggled to persuade clubs they should introduce membership cards.
'Glamorous pop names'
Efforts to tackle hooligans reached a sense of urgency on 29 May 1985 when a stampede by Liverpool supporters led to the deaths of 39 fans of Italian club Juventus at the European Cup Final at Heysel stadium in Brussels.
In a letter to her Italian and Belgium counterparts the following day, Mrs Thatcher described her "horror and revulsion" and said the violence had brought "shame and disgrace on those responsible and their country".
A £250,000 disaster fund for the families of those who died was set up.
A 20 June note to Mrs Thatcher from her press secretary Bernard Ingham said it was important "to implant in the public's mind the idea that the 1984-85 season was the low water mark... 1985-86 must mark the return to decency".
He suggested goalkeepers could front a campaign against hooligans, noting they were the closest to the stands and "first in line" for abuse.
Mr Ingham also told the prime minister Elton John had suggested she gave a radio interview to Manchester United goalkeeper Gary Bailey and Mrs Thatcher did agree to speak to him about her concerns in August.
"All the glamorous pop names in soccer have a role to play in getting the right approach to next season, and we should consider organising the main radio and television sports programmes to get as many of them on the air as possible," he wrote.