Two arrests after Charing Cross Road balcony protest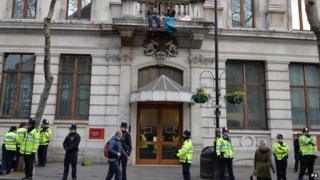 A man and a woman have been arrested after holding a protest on the balcony of a former bank in central London.
The Metropolitan Police said officers were called by bailiffs to the Grade II-listed property Cavell House on Charing Cross Road at 08:00 BST.
Fellow activists left the building but the pair stayed for about 14 hours.
A group calling themselves Love Activists said the building was not in current use and they planned to host a Christmas lunch for homeless people.
Scotland Yard said police attended the scene at the request of the bailiffs to prevent a breach of the peace.
The pair - a man, aged 22, and a woman, aged 21 - were arrested after leaving the balcony and taken to a central London police station on suspicion of breaching a court order.