Pilot who landed gear problem jet 'just doing job'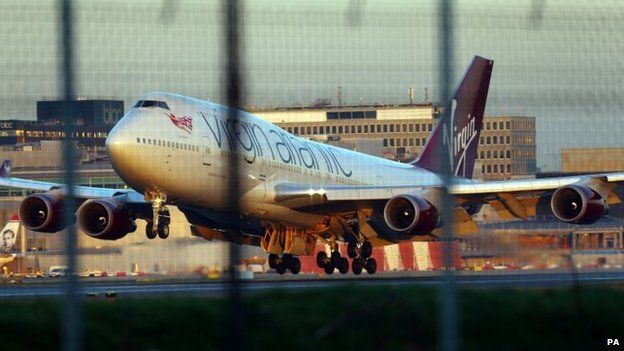 A pilot praised for the way he landed a Virgin Atlantic jet at London's Gatwick Airport after discovering a problem with its landing gear has spoken about the incident for the first time.
David Williams said in a statement that he was just doing his job, but admitted the landing was "out of the ordinary".
He praised colleagues for their support, saying he was "proud" of them.
Virgin flight VS43 was carrying 447 passengers and 15 crew to Las Vegas on Monday when it was forced to return.
The Boeing 747 circled over southern England for several hours dumping fuel before making a bumpy but safe landing just before 16:00 GMT.
Virgin Atlantic said Mr Williams had been trying to stay out of the media since the incident.
The pilot said he was "keen to spend some private time with my family over the new year".
He added: "Clearly this was an out of the ordinary landing, but I was just doing my job and any one of our pilots would have taken the same actions.
"I'm really proud of my colleagues on the ground and in the air and the support they gave me during this event - everyone worked really hard in a difficult situation."
Sir Richard Branson was among those to praise Mr Williams and his colleagues.
The Virgin president tweeted: "Well done VirginAtlantic pilots & team for safe & skillful landing of VS43. Thoughts with passengers & crew, thanks for support & patience."
One passenger, Mike Kaufman, said: "This was one of the greatest emergency landings in history. It was very smooth."
He praised the pilots and the cabin crew, saying the landing had been "textbook".
Trevor Stirling, who was travelling with his wife Catherine and four other friends, said: "Once it was over everyone burst into spontaneous applause. There was just palpable relief."
Nick Hughes, another passenger, said: "All credit due to the crew and the staff and of course the pilots because the landing was probably one of the softest landings I've ever had."
The passengers took to the skies again on Tuesday, landing safely at McCarran International Airport Las Vegas at 20:59 GMT.
Virgin Atlantic said about 95% of the passengers booked on the flight had decided to fly.
Route taken by Virgin flight VS43