Archbishop of Canterbury: UK must continue looking outwards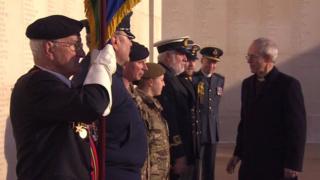 Britons must not turn their backs on all the suffering in the world, the Archbishop of Canterbury has said in his New Year message.
In a broadcast from the National Memorial Arboretum, the Most Rev Justin Welby talked about the disasters and wars in 2014.
He urged people not to let crises, such as Ebola, "slip from our minds".
The archbishop was unable to deliver his Christmas Day sermon because he was suffering from pneumonia.
In his New Year address, he reflected on his surroundings and Britain's armed forces.
The Arboretum's Armed Forces Memorial in Staffordshire is dedicated to those who have served their country since 1948. The nation owes them a debt of "unspeakable gratitude", Archbishop Welby said.
He went on to speak about conflict in the Middle East and Nigeria, and the persecution of Christians and other minorities. He said the UK - with its Christian heritage - should not turn its back on the suffering.
"When we are at our best, living out the generosity of Jesus Christ, as that has formed itself in our national character, when we turn outwards and use our best resources to change this world in which we live, we see what a wonderful heritage we have, and the hope we can bring to the poorest and those with the greatest suffering on the face of our planet," he said.
He also spoke of Britain's generosity abroad, including the aid sent to Sierra Leone, which is in the grip of the deadly Ebola outbreak.
"In the week just before Christmas I was in Sierra Leone, very briefly," he said.
"There I saw the result of British generosity, of aid poured in to support a country torn apart by Ebola, and the extraordinary dedication of British service personnel, working with charities, funded by our aid budget."
The 58-year-old was forced to pull out of his Christmas Day address at Canterbury Cathedral after being confined to bed with pneumonia.
His sermon, an annual tradition, was instead released as a statement in which he reflected on lasting peace. The Dean of Canterbury, the Very Reverend Robert Willis, delivered a homily in his place.
As well as being the leader of the Church of England, the archbishop is the spiritual leader of the 77 million-strong worldwide Anglican Communion.
In the past year, the archbishop has travelled more than 150,000 miles (240,000km) to meet the rest of the Anglican communion.
The message will be broadcast on BBC One at 12.45 GMT.