Prince Andrew sex claims woman 'should not be believed'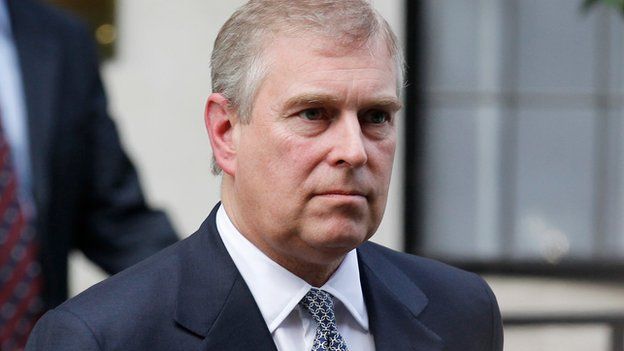 A US lawyer alleged to have had sex with a minor has denied the claims - and said allegations against Prince Andrew must also be "presumed" false.
Alan Dershowitz said the woman making the claims "should not be believed".
He and the Duke of York were named in documents filed in a Florida court over how prosecutors handled a case against financier Jeffrey Epstein.
The woman alleges she was forced by Epstein to have sex with Prince Andrew - claims denied by Buckingham Palace.
She says it happened when she was under age, and on three occasions - in London, New York and on a private Caribbean island owned by Epstein - between 1999 and 2002.
A Buckingham Palace spokeswoman said: "This relates to long-standing and ongoing civil proceedings in the United States, to which the Duke of York is not a party.
"As such we would not comment on the detail. However, for the avoidance of doubt, any suggestion of impropriety with under age minors is categorically untrue".
Mr Dershowitz, a former Harvard Law professor, said the allegations against him were not true.
Speaking to BBC Radio 4's Today programme, he said: "My only feeling is if she's lied about me - which I know to an absolute certainty she has - she should not be believed about anyone else."
He said the woman had "lied about other public figures including a former prime minister and others who she claims to have participated in sexual activities with".
"So I think it must be presumed all her allegations against Prince Andrew were false as well," he told the programme.
He added that he had only met the prince at public occasions, and had never been alone with him.
By Rajini Vaidyanathan, BBC Washington correspondent
While accusations are levelled against Prince Andrew, it's important to note that he is not party to the proceedings.
Instead he is named as part of evidence relating to a wider case of an alleged sex trafficking scheme, involving US businessman Jeffrey Epstein, who spent time in jail in 2008-9 for a sex offence with a minor.
Two women (known as Jane Doe #1 and Jane Doe #2) are suing the US government, saying it failed to protect their rights when it entered into a plea deal with Epstein.
Now, two further women (Jane Doe #3 and #4) want to join this case, and it's Jane Doe #3 who has made claims against the Duke of York, as part of this.
The prince strongly denies the allegations. This is the first time they have surfaced publicly, and no legal case has been made against him on this matter.
Mr Dershowitz said he wanted all evidence about the case to be made public, and said: "The story is totally made up. I do not know this woman. I was not at the places at the times. I am denying [the allegations] under oath thus subjecting myself to a perjury prosecution were I not telling the truth."
The woman has issued a statement through her lawyers, saying she was "looking forward to vindicating my rights as an innocent victim and pursuing all available recourse", adding that she was "not going to be bullied back into silence".
The court document alleges that Epstein sexually trafficked the woman making her available for sex to "politically connected and financially powerful people".
Prince Andrew and Mr Dershowitz are two of three well-known men named in the court document who it alleges had sexual relations with the woman.
The prince has previously been criticised for his former friendship with Epstein, who was sentenced to 18 months in prison for soliciting a minor for prostitution.
The prince and Epstein were photographed meeting in December 2010, after the tycoon had served his prison sentence, and the prince has also visited Epstein at his Florida home over the years.
The prince later had to apologise for his friendship with him, and stepped down as the UK special representative for trade and investment after 10 years in the role.
US citizen Virginia Roberts waived her anonymity in an interview with the Mail on Sunday in 2011, claiming she had been sexually exploited by Epstein as a teenager.
She also claimed to have met Prince Andrew on several occasions, but the paper said there was no suggestion of any sexual contact between Virginia Roberts and the prince.
Peter Hunt, BBC royal correspondent, said the prince was "once again the focus of an attention he'd rather avoid because of his past friendship with a convicted sex offender".
Our correspondent said Saturday morning's newspaper headlines were "pretty unpalatable" for the prince "and indeed for the royal family".