Proper arrangements for Ebola checks in place, says PM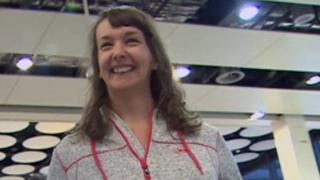 Britain has "proper arrangements" in place to screen people who may have contracted Ebola, the PM has said.
David Cameron told the BBC's Andrew Marr Show current measures ensured people could be taken to a hospital for testing in cases of uncertainty.
It comes after nurse Pauline Cafferkey, who had worked in Sierra Leone, was allowed to fly from London to Glasgow despite raising health concerns.
She was later found to have the virus and is now in a critical condition.
Mr Cameron said he had chaired an emergency Cobra meeting on Monday to discuss the case, and was listening to medical experts about whether further screening measures were required.
He reiterated that in cases of uncertainty, patients should be taken to the Northwick Park Hospital in Middlesex to be observed.
'System of quarantine'
Ms Cafferkey, a public health nurse, was diagnosed with Ebola in December after volunteering with Save the Children to fight the disease in Sierra Leone.
On her return to the UK, she raised concerns about her temperature with officials at Heathrow but - after testing - was allowed to continue her journey home to Scotland. She was diagnosed in hospital the next day.
At Heathrow her temperature was taken a six times over a 30-minute period but each test found her temperature to be normal.
Asked whether airport screening was failing, Mr Cameron said: "What I have said very clearly is that we should have a precautionary principle in place.
"If you're still in doubt, if there is uncertainty, there [are] proper arrangements for you to go to Northwick Park Hospital in Middlesex to be observed and have further tests there before going further. That is happening already."
He also said that if medical experts advised that a "system of quarantine" needed to be put in place, he would make this happen.
"It is important to listen to the medical experts, then make a decision," he said.
Mr Cameron added he was thinking of Ms Cafferkey and her family at this difficult time.
On Saturday, the Royal Free Hospital in north London - where Ms Cafferkey is being treated - said she had "deteriorated" and was in a critical condition.
On Sunday it issued a further statement stressing the hospital was "open for business as usual".
"The Royal Free London is currently treating a patient for the Ebola virus in a high-level isolation unit. There is no danger to patients or staff during this time," it added.
Passengers traced
It is the second UK case of Ebola. Another nurse, William Pooley, recovered from Ebola in September after also being treated at the Royal Free Hospital.
Ms Cafferkey, from South Lanarkshire, has been given an experimental anti-viral drug and blood from disease survivors in a bid to get her immune system to beat the disease.
She originally left Freetown in Sierra Leone on Sunday 28 December and made her way to Glasgow after stopping at Casablanca in Morocco and London's Heathrow.
Officials from Health Protection Scotland have spoken to all 71 people aboard the British Airways flight from Heathrow to Glasgow that Ms Cafferkey took, a Public Health England (PHE) spokeswoman has said.
And all 101 UK-based passengers and crew aboard the Royal Air Maroc flight from Casablanca to Heathrow have been contacted by PHE officials.
Ebola is transmitted by direct contact with the bodily fluids of an infected person, such as blood, vomit or faeces.
The virus has killed more than 7,800 people, almost all in West Africa, since it broke out a year ago.
The World Health Organization says the number of people infected by the disease in Sierra Leone, Liberia and Guinea has now passed 20,000.