Prince Andrew to 'move on' after US under-age sex claims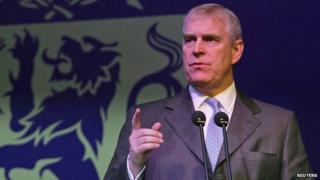 Prince Andrew will "move on and push ahead" with his work amid claims an American woman was forced to have sex with him when under age, royal officials say.
The Duke of York was named in US court papers relating to the handling of a case against financier Jeffrey Epstein.
Buckingham Palace has "emphatically denied" the allegations.
The woman has been named in reports as Virginia Roberts. The BBC has not been able to verify her identity.
'Resilient'
The Duchess of York, making her first comments after the allegations arose, has described her former husband as the "greatest man there is".
She also told reporters: "The York family is a tight unit".
The allegations were made in court papers filed in Florida last week as part of a case against the US government over a plea bargain it struck with Epstein, who was sentenced to 18 months in prison for soliciting a minor for prostitution.
The court document alleges that Epstein sexually trafficked the woman, making her available for sex to "politically connected and financially powerful people".
The woman claims she was forced to sleep with the prince when she was under age in the US on three occasions - in London, New York and on a private Caribbean island owned by Epstein - between 1999 and 2002.
Buckingham Palace has said "any suggestion of impropriety with under-age minors" by the duke was "categorically untrue".
The royal aide said: "The civil case is an ongoing process that won't end any time soon.
"However, since 2012 the duke has worked very hard to establish and refocus his working priorities on education, technology and enterprise and he will carry on with that work.
"It's fair to say that the Duke of York is nothing if not resilient. He will be keen to push on with the work he's been doing in recent years."
BBC royal correspondent Peter Hunt said: "The Duke of York's challenge is that he can't control the potential drip, drip of fresh allegations coming from the States.
"His predicament is that these claims of sex with a minor, which he's denied, have been made at a time when there's a greater focus on the alleged sexual behaviour of establishment figures."
Prince Andrew arrived back in the UK on Sunday after a family skiing holiday in the Swiss resort of Verbier.
It is likely his first public appearance will be at a reception at the World Economic Forum, also in Switzerland, later this month.
---
Analysis
By Peter Hunt, royal correspondent, BBC News
There's a tried and tested royal reaction when faced with controversy - and there have been plenty over the years. It's to maintain that the Windsor in the uncomfortable spotlight is focused on their work.
This is the message emanating from Buckingham Palace about Prince Andrew as he grapples with whether or not he needs to do any more in response to the allegations of sex with a woman when she was under age, which he has denied.
As things stand, officials are insistent that what needed to be said has been said in the two statements and there's no prospect of the Queen's son appearing on television protesting his innocence.
Those who know the prince describe him as resilient. It's a quality he needs right now.
---
The prince, who is fifth in line to the throne, has previously been criticised for his former friendship with Epstein.
The pair were photographed meeting in December 2010, after the tycoon had served his prison sentence, and the prince has also visited Epstein at his Florida home over the years.
The prince later had to apologise for his friendship and stepped down as the UK special representative for trade and investment.
The woman has issued a statement through her lawyers, saying she was "looking forward to vindicating my rights as an innocent victim and pursuing all available recourse", adding that she was "not going to be bullied back into silence".