Ex-doctor accused of rape 'thought he was bomb-proof'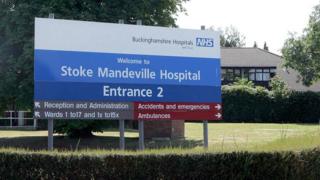 A former consultant paediatrician who is accused of raping and sexually abusing young girls thought he was "bomb-proof", a jury has heard.
Michael Salmon, 79, is accused of offering an illegal abortion to a teenage girl and raping her afterwards.
He is alleged to have abused other girls in medical consultation rooms, Reading Crown Court was told.
Mr Salmon faces 16 charges, including rape and indecent assault of girls in Buckinghamshire. He denies the charges.
Prosecuting, Miranda Moore QC said each of the counts related to a young girl Mr Salmon is alleged to have met while working in Buckinghamshire in the 1970 and 1980s.
The ex-doctor would examine young girls in a consultation room where they were either screened from their parents, or when parents were outside the room, she said.
On some occasions he groped girls under the pretence of listening to their heart, Ms Moore said.
'Illegal abortion'
Other times he carried out examinations when there was no medical need and "without a nurse present and without wearing surgical gloves," she added.
"In one case he used a girl's distress to offer to undertake an illegal abortion, and raped her in the aftermath, at the same time," Ms Moore told the jury.
After performing a procedure in a bedroom of his home he then told her to lie on the bed and said "one favour deserves another", before raping her, Ms Moore said.
Another charge related to a child who was a patient at Stoke Mandeville who alleges that she was raped by three men, including Mr Salmon, jurors heard.
"She remembers after being raped by three men, that she was taken back to her bed by a hospital porter," Ms Moore said.
Mr Salmon believed he was "bomb-proof" because no-one would believe a child over him, she added.
The defendant, of Salisbury in Wiltshire, faces three counts of rape, 11 of indecent assault, and two of using an instrument with intent to procure a miscarriage.
Operation Yewtree
The charges relate to eight girls aged from 11 to 18, between 1973 and 1988.
He was arrested under Operation Yewtree - set up to examine claims against former BBC radio DJ and television presenter Jimmy Savile.
The court heard the former doctor worked at hospitals in Buckinghamshire - including at Stoke Mandeville, in Aylesbury, which has been investigated following the allegations.
Ms Moore said that although Mr Salmon was arrested under a strand of Operation Yewtree, Savile would hardly feature at all in the case.
"There might be the odd passing reference, but there's no suggestion that this defendant abused a young female patient in concert with Jimmy Savile," she said.
But the allegations related to a time when "the other things were happening," she added.
The trial continues.