Charlie Hebdo: UK steps up security after Paris attack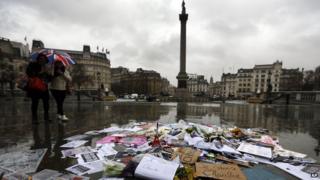 Security has been increased at UK ports, border controls and a major railway station following the attack at the Paris office of magazine Charlie Hebdo, which left 12 people dead.
There is not thought to be a direct threat to the UK, Downing Street said.
Silences have been held in the UK in tribute to the victims, who include two police officers and eight journalists.
Prime Minister David Cameron said the attack was a "challenge to our security" and "threat to our values".
Home Secretary Theresa May, speaking after chairing a meeting of UK government emergency committee Cobra, said security had been increased at the France/UK border - notably at the Eurostar rail terminal in Paris and the Channel Tunnel entrance at Calais.
UK border staff had "intensified checks on passengers, on vehicles and goods coming from France", she said.
The move was a "precautionary" measure and was not as a result of any specific intelligence, she added.
Armed patrols have also been increased at St Pancras International station, the Eurostar terminal in London, British Transport Police said.
The UK terror threat level remains unchanged at "severe", meaning a terrorist attack is "highly likely".
BBC assistant political editor Norman Smith said an additional UK police officer had also been sent to join the UK's existing counter-terror team in Paris.
There was no evidence the Paris terrorists had any ties to the UK, our correspondent added.
It comes after Mr Cameron offered France "any assistance our intelligence agencies can give" after the shootings, which killed eight journalists, two police officers, a maintenance worker and a visitor to the Charlie Hebdo office.
Dr Shuja Shafi, secretary general of the Muslim Council of Britain, also condemned the attack - believed to be in response to cartoons of the Prophet Muhammad.
"Nothing is more immoral, offensive and insulting against our beloved Prophet than such a callous act of murder," he said.
A group of 15 UK imams released a statement saying "cold-blooded murder such as this is the antithesis of Islam and its tenets".
Could Paris attack happen in London?
By Dominic Casciani, BBC home affairs correspondent
Ten years on from the 7/7 attacks on the London Underground, many security officials in London are now more concerned about a solo or Mumbai-style incident.
That's why "marauding gunmen" exists in the official list of possible threats which police and other agencies must plan to deal with.
Many steps have been quietly taken down the last decade or so to prepare the UK for terrorism attacks.
Tributes have been paid to the victims during vigils in the UK and France, while flags were flown at half-mast, including those at Downing Street and Whitehall, on Thursday.
MPs, peers and parliamentary staff gathered in Westminster Hall at noon to mark the silence.
UK police forces were also among those who took part in silences as a tribute to the French officers killed in Paris.
Sir Peter Fahy, vice-president of the Association of Chief Police Officers, said French officers died "protecting free speech".
Andrew Parker, head of the security service MI5, is expected to say in a speech on Thursday that is "too early" to come to judgements about the precise details or origins of the attack, which was "a terrible reminder of the intentions of those who wish us harm".
The Queen has also offered "sincere condolences" to victims and their families.
At the scene
By Emma Ailes, BBC News in Trafalgar Square
As the clock chimed at 11:00 GMT on Thursday, a small group of people quietly gathered in the pouring rain to mark the minute's silence.
Though there were not the crowds of the previous night's vigil, the emotion was just as raw.
Some French citizens now living in London were in shock at the horror that had unfolded in their home country.
But people of many nationalities were affected, as the handwritten messages at a makeshift memorial attested.
One woman had travelled from Wales because she felt she had to show her sorrow.
Some passers-by and tourists who stopped to look at the flowers and rain-sodden signs of "Je suis Charlie" were moved to tears.
Others dug out pens to lay as a spontaneous act of protest and solidarity.
It was too wet to light the candles that some had brought, but the minute's silence passed poignantly under umbrellas.
One French woman quoted her countryman Voltaire: "I may not agree with what you say, but I will defend to the death your right to say it."
Petrol station robbery
A huge police operation is under way north-east of Paris in the search for the main suspects.
Officers are searching areas near the town of Villers-Cotterets where the two men reportedly robbed a petrol station.
The village of Longport has been sealed off, with house-to-house searches for brothers Cherif and Said Kouachi.
Officials say there is no evidence of a link between the Charlie Hebdo attack and a second gun attack on Thursday, in which a policewoman was shot dead in Montrouge, a southern suburb of the capital.
The weekly magazine Charlie Hebdo has courted controversy in the past with its irreverent take on news and current affairs. It was firebombed in November 2011 a day after it carried a caricature of the Prophet Muhammad.
Following the attack, Deputy Prime Minister Nick Clegg accused UKIP leader Nigel Farage of trying to "make political points" for saying the attack raised questions about what he called a "gross policy of multiculturalism".