David Cameron to visit Barack Obama in Washington DC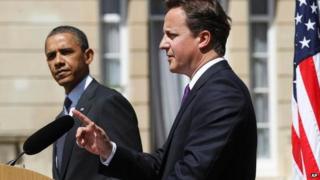 Prime Minister David Cameron is to pay a two-day visit to United States President Barack Obama in Washington DC, the White House has said.
The two leaders will have a working dinner at the White House on Thursday and meet in the Oval Office on Friday.
They are expected to discuss collaboration against internet-based cyber-attacks among other topics.
A report by GCHQ out this week is expected to highlight the threat to UK firms from such attacks.
Downing Street said the two leaders would discuss a range of global issues.
It added: "The prime minister is looking forward to the visit which will be an opportunity to discuss the global economic outlook, how we boost growth and increase free trade, and a number of national security issues such as Isil [Islamic State], counter-terrorism and Russia's actions in Ukraine".
Cyber attacks
White House press secretary Josh Earnest said in a statement: "Prime Minister Cameron's visit highlights the breadth, depth and strength of our relationship with the United Kingdom, as well as the strong bonds of friendship between the American and British people.
"The United Kingdom is a uniquely close friend and steadfast ally, and the president looks forward to beginning the new year by working with Prime Minister Cameron on these issues and reaffirming the enduring special relationship between the United States and the United Kingdom."
During his visit, Mr Cameron is expected to propose greater collaboration between the UK and US against cyber-attacks.
The report by GCHQ, the government's communications security agency, this week, is entitled Common Cyber Attacks: Reducing the Impact. It is expected to warn that computer networks belonging to UK companies are coming under daily attacks by hackers, criminal gangs, commercial rivals and foreign intelligence services.
It estimates that incidents typically cost £600,000 to £1.5m to resolve.
The report also suggests more than 80% of large UK companies experienced some form of security breach in 2014.
The intelligence service's director Robert Hannigan wrote in a foreword: "In GCHQ, we continue to see real threats to the UK on a daily basis, and I'm afraid the scale and rate of these attacks shows little sign of abating."
'Stand with France'
The two leaders last met during the G20 summit in November.
The summit focused on promoting economic growth but world leaders also discussed West Africa's Ebola crisis, climate change and the conflict in Ukraine.
The UK and US leaders were this week united in their condemnation of the attacks on Paris that have left 17 people dead.
Mr Obama offered assistance to "bring these terrorists to justice", while Mr Cameron said the UK stood with the French people in the fight against terror.