Prince Andrew urged to scrap Davos trip amid sex claim case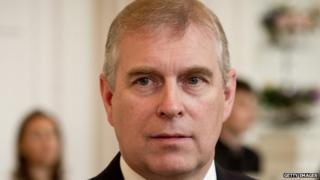 Prince Andrew should not attend a UK reception at the World Economic Forum, a former Home Office minister has said.
The Duke of York is due to be seen in public next week for the first time since denying a US woman's claims she was forced by a financier to have sex with the prince when she was underage.
Liberal Democrat MP Norman Baker said the prince should "keep a low profile".
Three Labour members of a Commons business committee say they are worried he would prove a distraction at Davos.
They have warned the focus at the event for British exporters would be on the private life of a prince rather than on the work of UK companies.
Meanwhile, the former Liberal Democrat leader, Sir Menzies Campbell, has talked of the need for "discretion rather than distraction".
Mr Baker - a campaigner for greater royal transparency - told the BBC: "I think it would be helpful if he wasn't going because of the furore which is surrounding him at the present time, which may well be very unfair.
"I don't know and nobody does know. But I certainly think when we represent our country abroad, whoever we are, we have to bear in mind how that will be received at any particular point."
The allegations against Prince Andrew emerged in evidence submitted to a US court in a case involving Jeffrey Epstein, who spent time in jail in 2008-9 for a sex offence with a minor.
Prince Andrew, 54 and fifth in line to the throne, stepped down as UK trade envoy in July 2011 following controversy over his friendship with the American financier.
He still carries out official engagements on behalf of the Queen, focusing on the areas of education and skills, entrepreneurship, and science, technology and engineering.
Buckingham Palace has said the claims against Prince Andrew are "categorically untrue" and lack "any foundation".
A royal aide had earlier said the prince will "move on and push ahead" with his work, describing him as "resilient".
BBC royal correspondent Peter Hunt says while Prince Andrew is keen to resume his public life, it has been a challenge as he has been at the heart of allegations which show no obvious sign of subsiding and over which he can exert little control.
There has been widespread media coverage of the case brought by two women who are suing the US government in a Florida court, arguing that it failed to protect their rights when it entered a plea deal with Epstein.
Two more women - including Virginia Robert, who has made the accusations against the prince - now want to join the case.