Sarah Ferguson offers 'careful' praise for prince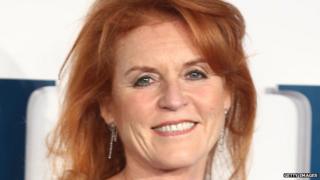 Few public figures have chosen to declare their support for Prince Andrew as he faces claims of underage sex which he's denied.
David Cameron ducked an opportunity to endorse the Queen's son when it was offered to him.
The fifth in line to the throne has had to rely on London mayor Boris Johnson; an academic; and his ex-wife.
Sarah Ferguson has defended him twice. Once outside the luxury Swiss ski chalet the couple have bought for millions of pounds.
And now on American television during an interview in which she was promoting a food mixer and her diet website.
On both occasions she's been careful just to praise the man she divorced 19 years ago and to avoid commenting in detail.
In America, where her many personal battles have been sympathetically documented, her interventions are likely to be well received.
However, Sarah Ferguson remains a divisive figure in royal circles.
It's probably as well that in Sandringham, where Prince Philip's on holiday, the televisions aren't tuned into broadcasts from across the Atlantic.