Charlie Hebdo cartoon prompts restraint call in UK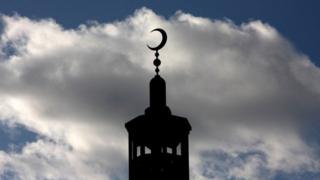 British Muslims have been urged to react with restraint to the publication in Charlie Hebdo magazine of a new cartoon depicting the Prophet Muhammad.
A letter signed by dozens of Muslim leaders said they understood most Muslims would be hurt and offended.
But they said patience and tolerance was the best response.
The imams' letter, released through the Muslim Council of Britain, said: "With dignified nobility we must be restrained."
'Gentle and merciful'
It added: "Most Muslims will inevitably be hurt, offended and upset by the republication of the cartoons.
"But our reaction must be a reflection of the teachings of the gentle and merciful character of the Prophet.
"Enduring patience, tolerance, gentleness and mercy, as was the character of our beloved Prophet, is the best and immediate way to respond."
The new edition of the French satirical magazine has gone on sale, a week after gunmen murdered eight journalists and four others at its offices in Paris.
The cartoon on the magazine's cover depicts the Prophet weeping while holding a sign saying "Je suis Charlie" ("I am Charlie").
The slogan "Je suis Charlie" has been widely used following the shootings. It is believed earlier cartoons depicting the Prophet prompted the attack.
In a separate attack in Paris two days later, four Jewish men died after an Islamist gunman took hostages at a kosher shop.
A policewoman was murdered in a third shooting believed to have been carried out by the same attacker.
Six languages
Sadiq Khan, Labour's shadow justice secretary, told Radio 4's Today programme "nothing" was more offensive to Muslims than the attacks in France.
He said some people in the UK would feel offended by the cartoons, but added: "It's inevitable that people of different faiths - or people who aren't a member of an organised faith - will often say stuff you may not agree with.
"But part of living in a pluralistic society is not just tolerating but respecting the differences that exist."
Sara Khan, co-director of charity Inspire, said many Muslims "do not find this image provocative".
"I think we have to be very careful about when we talk about how 1.6bn Muslims around the world feel," she said.
Wednesday's edition of Charlie Hebdo has an unprecedented print run of five million copies. Normally only 60,000 are sold each week.
The issue will be available in six languages - including English, Arabic and Turkish - some in print, and some online.
Menzies Distribution has said it will handle some of the supplies of the edition in the UK.
However, a spokesman for the firm said it had still not had confirmation of when the magazine will be delivered to the UK or how many copies it will receive.
The three days of violence in Paris began when the magazine's office was attacked by Said and Cherif Kouachi. The brothers were later killed by security services after a stand-off in a town north of Paris.
Separately Amedy Coulibaly, who investigators have linked to the pair, killed four men at a kosher supermarket in Paris, before being killed when police stormed the building.
Coulibaly is also believed to have shot dead a policewoman.
His partner Hayat Boumeddiene - identified as a suspect by French police - is now thought to be in Syria.