West Midlands pilot for scrap metal database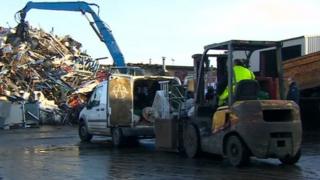 A new database of scrap metal dealers is being piloted in the West Midlands in a bid to tackle illegal sales.
British Transport Police (BTP), which has led a taskforce tackling metal thefts, is running the database.
The number of thefts from, or connected to, railways in the West Midlands force area are down by 57% over the past two years.
Prohibiting the use of cash to buy scrap metal has had a big impact, BTP said.
The Scrap Metal Dealers Act 2013 made it illegal for anyone to pay cash for scrap metal and collectors and dealers have to be licensed.
The force said it was likely the database would be rolled out across the country from April.
Det Ch Insp Alison Evans, from BTP, said: "There's been a complete sea change in the way we think about metal theft. It's now the only industry where you can't use cash.
"There's a much wider spread of understanding now. People know it's not a victimless crime."