Operation Elveden: Journalists cleared in Sun trial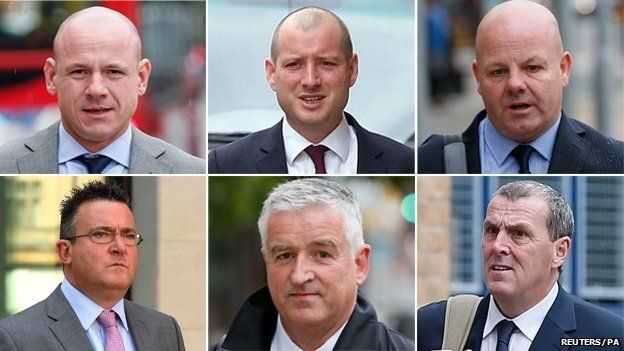 Four journalists have been cleared of plotting to pay officials while working at the Sun newspaper.
Former Sun journalists Ben O'Driscoll and John Troup, ex-managing editor Graham Dudman and picture editor John Edwards were cleared by a jury at Kingston Crown Court.
But the jury is still deliberating over other counts faced by Mr O'Driscoll and Mr Dudman and two other men.
The charges relate to paying police officers and prison guards for stories.
Mr Troup was cleared of the one charge he faced, and Mr Edwards was cleared of the two charges he faced.
The Sun's former head of news Chris Pharo, 45, of Sandhurst in Berkshire still faces a total of three charges of conspiring to commit misconduct in a public office.
Mr Dudman, 51, of Brentwood in Essex, Jamie Pyatt, 51, of Windsor in Berkshire and Mr O'Driscoll, 38, also of Windsor, all still face two counts of the same charge.
The three-month trial, presided over by judge Richard Marks QC, will resume on Monday.
Prosecutors had claimed the six men conspired to pay officials from 2002-11, including police and prison officers.
They were accused of buying confidential information about the Royal Family, celebrities and prison inmates.
They were arrested as part of Operation Elveden, Scotland Yard's investigation into corrupt payments to public officials.