Child abuse inquiry members to face MPs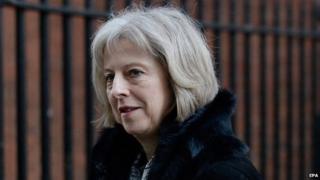 Members of a team carrying out an inquiry into child sexual abuse are due to appear before MPs.
The inquiry was announced in July but still has no chairman, following the resignations of the government's first two choices, and doubts remain over plans to give it extra powers.
Two members and adviser Prof Alexis Jay will face the Home Affairs Committee.
Meanwhile, the Local Government Association will hold a summit on improving child protection measures.
The inquiry, announced on 7 July by Home Secretary Theresa May, was sparked by claims of paedophiles operating in Westminster in the 1980s.
At the committee meeting later, panel members Drusilla Sharpling and Prof Jenny Pearce - along with Prof Jay - will face questions from MPs.
Though it has no chairman, following the resignations of Baroness Butler-Sloss and Lord Mayor of London Fiona Woolf, the inquiry has started its work of investigating whether "public bodies and other non-state institutions have taken seriously their duty of care to protect children from sexual abuse in England and Wales".
Last month Mrs May told inquiry members the panel could be disbanded amid criticism from survivors of abuse.
She also said she wanted to give the inquiry statutory powers, but no decision on the membership and powers of the inquiry has yet been announced.
'Not fair'
The Local Government Association, which represents councils in England and Wales, has organised its summit to bring together council leaders, police, the NHS and children's charities to discuss child sexual exploitation.
Chairman David Simmonds said protecting children was the "most important thing that councils do" but said it was "not fair to children" that Ofsted inspections focussed on council services but did focus on work by other agencies.
"We all recognise that it is only by working together to improve the way we protect children in the future that this evil crime can be eradicated and victims given the confidence to come forward," he said.
"We need scrutiny processes to adopt the same approach, so every organisation involved in child protection is examined during an inspection."