Police breath test failure rate hits three-year high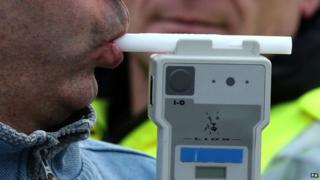 The proportion of motorists in England and Wales failing police breath tests has increased to its highest level for three years.
Almost 6,000 drivers tested positive for alcohol in 2014, 4.39% of the total - the highest percentage since 2011.
The Association of Chief Police Officers (Acpo), which compiles the data, said drivers under 25 were most likely to fail.
The association said officers carried out fewer tests overall last year.
Of the 133,996 breath tests carried out, 5,885 were failed. The failure rate was 6.33% among the 28,228 drivers under 25 tested.
Chief Constable Suzette Davenport said: "The use of an intelligence-led approach by officers may give the impression, through our figures, of members of the public not taking seriously the consequences of driving under the influence, but I am confident that our messages on the topic are getting through.
"Rather, targeted testing is helping officers to pick up on offending in a more efficient way."