Gary Glitter trial: Woman tells of 'sex attack'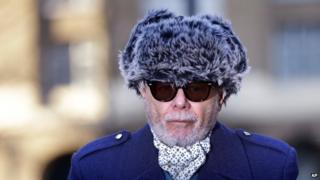 A woman who Gary Glitter is accused of trying to rape as a child "felt uncomfortable" at his presence in her bed, but did not want to be rude and push him away, a court has heard.
The 70-year-old - real name Paul Gadd - is alleged to have crept into the youngster's bed in 1975 as she slept.
The woman told the court: "I didn't like him being there. It felt strange."
Mr Gadd, from London, denies 10 charges relating to alleged sex offences against three girls from 1975 to 1980.
John Price QC, prosecuting, asked the woman how she had felt, as a child, after the alleged attack.
Speaking through tears, the woman told Southwark Crown Court: "I felt ashamed and embarrassed because by that age all your private areas become private.
"I just felt ashamed and dirty."
She said that the day after Mr Gadd had been "just normal - like he always was before".
'Arms around me'
The former glam rock singer is said to have tried to assault the girl, who was aged under 10, as she slept next to a friend after a dinner party.
Describing the alleged rape attempt, the woman said: "He put his arms around me - started to cover me - put his arms around the top of my body."
She added: "I didn't like him being there. It just felt strange to have an adult in our bed.
"It hadn't happened before, and it just felt uncomfortable."
Mr Gadd is then said to have gone on to try to rape the girl.
Asked why she had not tried to push Mr Gadd away, the woman responded: "I didn't want to be rude.
"I thought he was probably only trying to cuddle me."
'Uncle Gary'
A number of years later she had felt compelled to tell her mother after the singer had invited her into a bedroom, the jury heard.
She said Mr Gadd had asked her to give "Uncle Gary" a cuddle.
"Until then I thought if we all forgot it, it would be like it hadn't happened," she said.
"But then when that happened the second time, I tried to do what I had done the last time I guess.
"I didn't think that I could carry on like I had last time, just keeping it in my own head, but I also didn't want my mum to know."
Jurors heard that she did not go to the police until the late 1990s when she heard that Mr Gadd had admitted to child pornography charges.
The woman said: "I felt angry because I just realised it was a continual thing - it seemed that way from seeing that news."
'Smelled horrible'
The woman, who cannot be named for legal reasons, said that she had been to the star's mansion a number of times as a child.
She recalled that it had had a "sweet room", a swimming pool, and "always smelled new".
She recalled also having seen Mr Gadd's fellow glam rocker, Alvin Stardust, at the address.
The prosecution has said that the girl was only able to avoid being raped by Mr Gadd by falling into the "cocoon" formed by her bedsheets being tucked under the mattress.
The alleged victim said that after the attack, drunken Mr Gadd, who smelled "horrible", had fallen asleep in the bed.
Mr Gadd, from Marylebone in central London, denies the attempted rape of the girl, and an alternative count of indecent assault.
He also denies six further counts of indecent assault, and two other sexual offences, relating to two other women.