Operation Elveden: Majority direction in Sun staff trial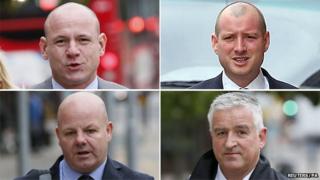 Jurors in the trial of four Sun newspaper staff accused of paying officials for stories have been told they can return majority verdicts.
Ex-head of news Chris Pharo, ex-deputy news editor Ben O'Driscoll, reporter Jamie Pyatt and former managing editor Graham Dudman deny conspiring to commit misconduct in a public office.
Prosecutors say the men used pay-offs to get ahead of their competitors.
The Kingston Crown Court trial has lasted three months.
After seven days of deliberations, Judge Richard Marks QC told the jury they could return majority verdicts in which at least 10 of them were agreed.
The court heard how information was allegedly sold to the newspaper by public officials, including police and prison staff, from 2002-11.
Stories were said to have involved details about the Yorkshire Ripper Peter Sutcliffe, pop star Mick Hucknall and murdered schoolgirl Milly Dowler.
Last Friday the Sun's picture editor John Edwards and former reporter John Troup were cleared of conspiring to commit misconduct in public office. Mr O'Driscoll and Mr Dudman were also found not guilty of one similar charge but are awaiting verdicts on the remaining counts against them.