Gary Glitter trial: Woman denies lying about assault claim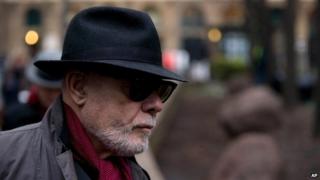 A woman who claims Gary Glitter tried to rape her as a child has denied lying about the alleged attack, saying she remembers it "as if it was yesterday".
The 70-year-old former singer - whose real name is Paul Gadd - denies climbing into the schoolgirl's bed and trying to sexually assault her.
She refuted a claim from his lawyer that the attack "simply didn't happen".
Mr Gadd denies 10 charges relating to alleged sex offences against three girls between 1975 and 1980.
The jury at London's Southwark Crown Court was told the woman, aged under 10 at the time of the alleged assault in the mid-1970s, waited 23 years to report it.
'Exposed by chronology'
Under cross-examination, the woman described how she was only able to move away from the singer - said to have climbed into her bed smelling of alcohol and tobacco - by wrapping herself in sheets tucked under the mattress.
However, Mr Gadd's defence lawyer, Sallie Bennett-Jenkins QC, told the court that the beds in the house all had duvets.
She also told the woman the events could not have happened in 1975 because the property she referred to had not yet been bought.
Ms Bennett-Jenkins put to the woman: "These allegations are totally untrue and you have been exposed by the chronology."
But the woman, who cannot be named for legal reasons, replied: "No I have not. It might look like that, but I haven't.
"If there have been mistakes with the chronology, I can't defend that, but what I can say is that everything I remember about the events I remember as clear as if it was yesterday."
The woman had previously told jurors she remembered a particular room in the basement of the house where she was allegedly attacked.
After being shown a plan of the property she agreed that this could not have been the case as there was no basement.
Ms Bennett-Jenkins said: "I am going to suggest that your account of the events are completely and utterly untrue. It simply didn't happen, did it?"
The woman responded: "It did happen."
'Devastated'
During re-examination by prosecutor John Price QC, the jury was told that in early police statements the woman said she may have been unsure about the dates.
When he asked her why she had decided to make the allegations after Mr Gadd was charged with child pornography offences in 1998, she said: "Because I wanted to face him for what he did and I also wanted - I hoped that other people would also.
"I wanted them to know that there was more that he did, apart from what he had been charged with."
One of her friends later told the court the alleged victim had warned her that Mr Gadd was "dangerous".
She said the warning, at a garden party, came several years after her friend was allegedly assaulted and that she was advised: "Keep away from Gary."
As well as denying attempting to rape the girl, Mr Gadd denies an alternative count of indecent assault.
He also denies six further counts of indecent assault, and two other sexual offences, relating to two other young girls.