Q&A: What are the legal implications for Prince Andrew?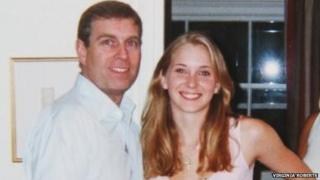 A US woman has alleged she was forced to have sex with Prince Andrew when she was 17. The Duke of York categorically denies any wrongdoing but Ms Roberts's lawyers have sent him a letter asking him to respond under oath to the allegations.
---
Does the letter sent to Prince Andrew have any legal effect?
No. The prince is not facing any legal proceedings. The claims were originally made as part of evidence relating to a wider case of an alleged sex trafficking scheme, involving US businessman Jeffrey Epstein.
---
Could Prince Andrew be refused entry to the United States?
This is theoretically possible but would be a decision for the US immigration authorities. I am told that they can refuse entry based on behaviour that falls short of a criminal offence - if it is tantamount to criminal conduct.
The issue of refusing entry arose in the case of Nigella Lawson who admitted taking cocaine in a UK criminal trial.
Prince Andrew has categorically denied the allegations of sexual abuse and so has denied any criminal offence.
---
Could Prince Andrew be required to give evidence on oath in the Virginia Roberts case?
There is longstanding mutual legal assistance between the UK and the US. It is a complex area of law but the idea is that our justice systems co-operate with each other.
So, if there was a request from a US court - and it would probably have to be from the judge in the case - to have a UK citizen deposed on oath, the request goes to the UK Central Authority, which is an agency which works on behalf of the Home Secretary. There is a presumption of co-operation, ie that requests will be met.
If the request is granted the person is summonsed to attend a court here and give their evidence on oath. The grounds for refusing such a request are limited.
A request under mutual assistance could be another thing Virginia Roberts's legal team might consider.
---
If Prince Andrew did travel to the US, could he be required to give evidence on oath while there?
It would be much more difficult for him to resist in the US than for him to do so when he is outside US jurisdiction.
In the US he would be under the jurisdiction of the court and could be issued with a summons/subpoena - which of course, he could challenge.