Broadmoor Hospital: Investigation into fraud and overspend claims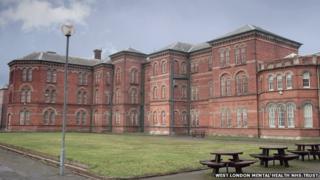 An investigation has been launched into allegations of fraud and overspending at the trust which runs Broadmoor high-security hospital.
West London Mental Health Trust said it had called in independent investigators to look at "historic management of finances relating to capital projects."
Broadmoor is home to some of the UK's most dangerous offenders and has been linked to the Jimmy Savile scandal.
Patients include Yorkshire Ripper Peter Sutcliffe.
A separate investigation is currently under way after it emerged Savile had unprecedented access to the Berkshire hospital, where some of his abuse is believed to have taken place.
In a statement on the financial concerns, the trust said its duty was to make sure taxpayer money is spent "on priorities that make a difference to patient care."
It added: "We are unable to comment in detail on the investigation while it is ongoing.
"However, we can assure the public that the trust takes this matter very seriously and the investigation will be full and impartial, and will interview all those involved in the management of the department at that time."
'Appropriate actions'
The trust said it did not want to pre-judge the investigation and "whether any further formal action is required either by NHS Protect or the police."
But it pledged to "take any appropriate actions as recommended in the final report."
The statement also said a new director responsible for the estates and facilities department had been appointed.
"She will continue the work started last year to improve the management and performance of the department," it added.
Broadmoor opened in 1863 as England's first asylum for the criminally insane.
It became a hospital in 1948 and is one of only three high-security mental health hospitals in the country.
Work began last year on a new £242m redevelopment of the hospital, a new 16-ward, 234-bed unit expected to open to patients in early 2017.