CCTV: Too many cameras useless, warns surveillance watchdog Tony Porter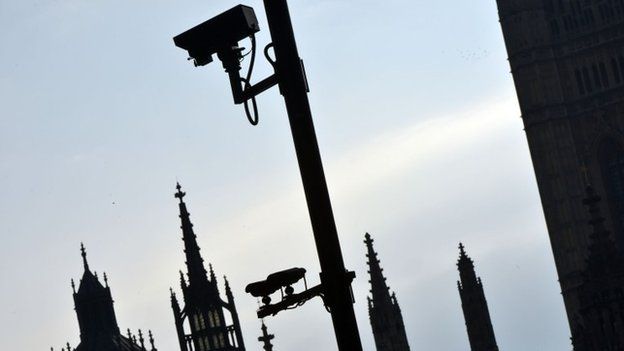 Too many CCTV cameras are useless, the government's surveillance camera commissioner has warned.
Tony Porter also told BBC Radio 5 live the public did not have a true understanding of the current nature of surveillance.
Local authorities with many CCTV cameras needed to inform the community about the exact number and how effective they were, he said.
He also expressed concern about drones and police officers wearing cameras.
The UK has one of the largest totals CCTV cameras in the world. The British Security Industry Association (BSIA) estimates there are between 4-5.9 million cameras.
Mr Porter, the surveillance camera commissioner for England and Wales, said organisations and local authorities were meant to carry out annual reviews of their CCTV capacity but many failed to do so.
He said when a West Midlands local authority held a review, it reduced the number of ineffective cameras and saved £250,000 in the process.
"You can still maintain the balance of excellent surveillance but not have a propagation of surveillance that is actually useless," he said.
"Surveillance can be an extremely good thing and run well, it's a useful tool for society.
"But to quote a former information commissioner, 'we should not sleepwalk into a surveillance society'."
He told the BBC News website that he regarded cameras as "useless" if they were redundant, having served the purpose they were intended for, such as public safety, crime deterrent or traffic management.
They might also be useless if they were situated in the wrong place, damaged or the old analogue versions with inadequate visibility, he went on.
Mr Porter, a former counter-terrorism officer, said he was concerned about the use of drones and police wearing cameras on their uniforms.
"Technology can support law enforcement and protect society," he said.
"My concern is about the introduction of poor surveillance that doesn't benefit society."
He called for a public debate and greater regulation to ensure cameras "do not proliferate unnecessarily".
"We have millions of cameras in this country and Europeans look at us askance that our society actually accepts the volume of cameras we do," he added.
While some councils have cut their CCTV budgets to save money, there has been a rise in private and domestic cameras.
Meanwhile, Dyfed-Powys police - which covers more than half of Wales - could stop monitoring CCTV after a review found the cameras did not deter crime.
The report found that the removal of Powys Country Council CCTV cameras did not result in a significant rise in crime or anti-social behaviour and there was little evidence the cameras deterred violent or alcohol-related crime.
A Local Government Association spokesman said town halls consult with residents, businesses and police on whether CCTV is appropriate in an area, and operate their systems in accordance with the code of practice, which is overseen by the surveillance camera commissioner.
"In tough financial times, councils are not going to spend money on installing and running CCTV cameras unless they genuinely believe they will work and have local support and many are actually scaling back CCTV operations," he said.
Assistant Chief Constable Mark Bates, national policing lead for CCTV, said the "location and number of cameras should be determined by the potential risk of harm to the public, rather than by a quota approach".
"I have no desire for us to creep towards a surveillance society - that is not in anyone's interests, but the efficient use of CCTV, in the public interest, is a key weapon in our arsenal of evidence which can help us apprehend offenders, reduce crime, protect the public and obtain justice for victims," he added.