David Beckham whisky advert cleared by watchdog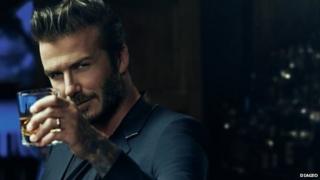 A campaign promoting David Beckham's new whisky has been cleared by the advertising watchdog after a complaint it would encourage underage drinking.
Charity Alcohol Concern complained the footballer was popular among children and should not be promoting alcohol.
But the Advertising Standards Authority said Beckham was retired and "no longer likely to hold such appeal to children".
Diageo, which developed the drink, said his fans were mostly adults.
The advert, which was directed by filmmaker Guy Ritchie, shows Beckham riding a motorcycle before pouring the drink for friends.
The Advertising Standards Agency said as a footballer and celebrity Beckham would be likely to hold general appeal for some children.
But it said: "The shift from football to commercial ventures, as well as his move to play in foreign leagues and subsequent retirement from football, meant that he was no longer likely to hold such appeal to children in 2014."
Diageo said its research showed he was a global icon that appealed to its target audience of men aged 25 - 40. It said 76% of his Facebook page subscribers were over 18.
But Alcohol Concern said the campaign was irresponsible as it would appeal to teenagers and imply that drinking was a key to social success or acceptance.
'Global icon'
The group pointed out Beckham's former partnership with the Sainsbury's Active Kids campaign and his role as a Unicef goodwill ambassador.
In response the ASA said: "We also noted that Beckham had been prominently involved in promoting Sainsbury's Active Kids and Unicef campaigns, but considered that these were unlikely to contribute particularly to his appeal to children or to indicate that he had a strong appeal to them."
Emily Robinson, deputy chief executive of Alcohol Concern, disagreed with the decision.
She said: "Given his other roles promoting sport and the importance of a healthy lifestyle, we think the public will be amazed to hear the ASA doesn't think David Beckham is a role model for children.
"This ruling shows why we need tighter restrictions on advertising regulations to ensure children and young people have far greater protection from alcohol advertising."