Plebgate row: Andrew Mitchell 'turned down libel settlement'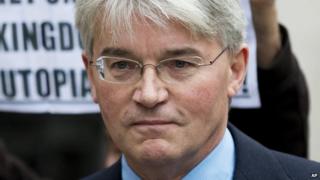 Former minister Andrew Mitchell refused an offer to settle his "Plebgate" libel case just two months before he lost, court papers seen by the BBC show.
The Tory MP could have saved at least £500,000 in legal costs had he accepted a deal from the Sun's publishers, News Group newspapers, last September.
A judge ruled in November the ex-chief whip probably had called a policeman at Downing Street's gates a "pleb".
Mr Mitchell accepted using bad language but said he had not used that word.
The case, which became known as Plebgate, stemmed from a row on 19 September 2012 when police officers would not let the Sutton Coldfield MP cycle through Downing Street's main gate.
The Sun, which was sued by Mr Mitchell for running the initial story that said he had used the word pleb, is now seeking to recover all its legal costs from him.
They were £500,000 when the offer was made on 19 September but are thought to have risen substantially since then.
No apology
Mr Mitchell is also facing a separate legal bill arising from a libel action successfully brought by PC Toby Rowland, the officer on the gate.
In addition, PC Rowland, whose case was funded by the Police Federation, is seeking damages.
The offer made to Mr Mitchell had said there should be "no comment" by either side.
It would have allowed him "to avoid liability" for News Group's costs incurred, according to a legal document from barristers acting for the media organisation.
The High Court heard the offer did not include an apology and Mr Mitchell turned it down.
The court has now ruled Mr Mitchell should pay two sets of legal costs for his failed libel action - News Group's and PC Rowland's.
The court had been hearing arguments about whether the MP should have to pay both given that the issue was substantially the same.
The judge, Mr Justice Mitting, said Mr Mitchell's refusal to accept an offer to settle one of the libel cases was "determinative" of the issue.
The final amount will be determined by a specialist costs judge.
Mr Justice Mitting also ordered the MP to pay the costs of the latest legal hearing, with an interim payment of £25,000 due.
In December, the court ordered Mr Mitchell to pay the Police Federation and News Group Newspapers an interim payment of £150,000 each.
Payment was made earlier this month.