Boudicca cruise ship fire sees passengers flown home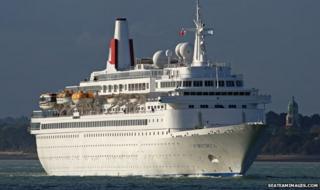 Nearly 800 holidaymakers - most of them British - have had a trip cut short after their cruise ship caught fire.
An engine room blaze on board the Boudicca left it listing and powerless for about five hours off the coast of Morocco on Sunday.
Fred Olsen Cruise Lines said it had made the "difficult" decision to cancel the voyage and fly passengers home.
It had left Southampton on 20 January for an 18-night cruise of Cape Verde and the Canary Islands.
After the fire, the ship made its way on reduced power to Tenerife, where engineers have been investigating the extent of the damage.
All but six of the passengers were from the UK.
All passengers have been offered a full refund for the cost of their ticket, plus 50% off their next booking as compensation, UK-based Fred Olsen said.
Tickets for the cruise had been priced from £1,199.
The fire, which broke out at 04:00 GMT on Sunday, left the ship "listing" and "in pitch black", according to reports from passengers on board.
It was contained within the engine room, and no passengers or crew were endangered, a Fred Olsen spokeswoman said.
'Extensive damage'
However, two engines were damaged, leaving the ship running on two main engines and three auxiliary engines at a reduced speed of eight knots.
The company has not said what caused the fire.
Gavin Poole, from Wimbledon, south London, said his elderly parents had been on board and were told the damage to the ship was "extensive".
A team of engineers and technicians met the ship in Tenerife to investigate the extent to which the two main engines and electrical cables had been affected, Fred Olsen said.
"Their expert assessment is that Boudicca should stay longer in Tenerife, in order for the ship to undertake all the work required," spokeswoman Ruth Ryland said.
"As a definitive timeline is not able to be provided for the repairs, Fred Olsen made the difficult decision to fly guests back to Southampton and Bournemouth, at its own expense."
The next cruise is expected to depart as planned from Southampton on 7 February, she added.
The Boudicca had 784 passengers and 356 crew on board at the time of the fire.
It is one of four cruise liners owned by Norwegian-owned Fred Olsen.