Prisoner rehabilitation: Private firms begin new scheme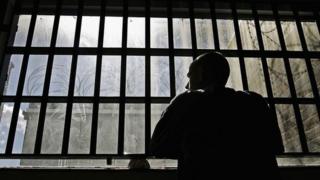 A scheme that will use private contractors to rehabilitate prisoners who have served short sentences is due to start.
The companies will be paid by results, and earn more cash if the criminals do not commit further crimes.
Justice Secretary Chris Grayling said the changes "have to happen" and will create a "more effective" system for curbing reoffending rates.
But prison reform campaigners warn that the new system will be a "disaster".
More than 500,000 crimes are committed each year by people who have been convicted of a crime before, the Ministry of Justice (MoJ) has said.
Under the old system offenders serving less than 12 months in prison received no statutory support on release, and according to the MoJ, this group has the highest reoffending rates, with 57.5% committing crimes within a year of walking free.
Support and guidance
But now any prisoner who has served a sentence of less than a year will be supervised for 12 months from their release.
Mr Grayling said: "There are so many victims of crime each year because we don't provide any support and guidance to those who leave prison.
"What we are doing is creating I believe a system that will be more effective. It's been criticised in the past that probation officers don't get to spend enough time with offenders. We are trying to change that."
The new system will use private contractors, like Sodexo and Interserve, to rehabilitate the prisoners instead of probation officers.
A spokesman for National Association of Probation Officers, Ian Lawrence, told the BBC: "Our concern is that the task of doing this is being put in the hands of private providers with an untried, unproven record.
"The other thing we're concerned about is the speed with which these reforms have been rushed through. They were never piloted; there was never any evidence that they work."
Prison reform campaigners have also raised objections, arguing it would be better to replace short sentences altogether, with more effective punishments.
Frances Crook, the chief executive of the charity Howard League for Penal Reform, said the government's new programme was drawn up "on the back of an envelope" and based on "emotion rather than consideration".
Fence posts
BBC home affairs correspondent Daniel Sandford said critics of the scheme were concerned it was more ideological than practical, and driven by an interest in privatisation rather than by evidence that using contractors actually worked.
The launch of the new scheme coincides with a separate government announcement to get prisoners to make sandbags, fence posts and other kit for the Army as part of a drive to teach them the "value of a hard day's work".
The 10-year deal to produce equipment will save the armed forces money, and give inmates valuable employment skills, Mr Grayling said.
He added: "By providing this new service, prisoners will be giving something back to their country, while learning important new skills."
The agreement builds upon a six-month trial that the government said had already reaped savings of almost £500,000.