Complaints against police reach a record high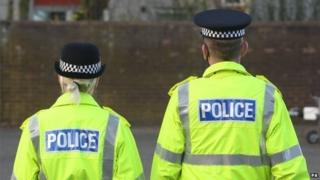 The number of complaints made against police in England and Wales has reached a record high.
There were 34,863 cases involving complaints in 2013-14, figures from the Independent Police Complaints Commission show.
The figures show a 15% increase on the previous year - and the highest since the IPCC was established in 2004.
The IPCC said the rise was clear in the majority of police forces.
The highest number of complaints were regarding police neglect or failure in duty, followed by complaints about police being rude or intolerant.
The largest percentage increase in complaint cases year-on-year was recorded by Northumbria Police, which went from 401 complaints to 794, a rise of 98%.
The next biggest rise was recorded by City of London Police, where complaints rose 90% from 123 to 234 between 2012-13 and 2013-14.
Direction and control
City of London Police said the 90% rise was caused by it taking responsibility for complaints made against crime reporting centre Action Fraud during 2013-14.
Complaints made solely against that force went down by 15% in the same period, it said.
More than one allegation can be included in a complaint "case" and the police watchdog said some of the overall increase in England and Wales was due to the broadening of the definition of a complaint.
New complaint categories regarding the direction and control of the police were introduced in 2013-2014.
Dame Anne Owers, who chairs the IPCC, said the figures showed police forces were "not handling complaints sufficiently well".
She said the IPCC upheld 49% of appeals from people whose complaints were not even recorded in the first place, as well as 44% of appeals from those whose complaints had been investigated by the local force.
"As we have said many times, this reflects a complaints system which is complex, bureaucratic and over-focused on blame," she said.
Since 2013, forces have dealt with some of their own appeals.
Dame Anne said: "The IPCC has always been concerned about this, as we consider that it is an in-force review, not an independent appeal.
"These figures add to that concern. It is clear that forces uphold a much lower proportion of appeals than the IPCC."
'Under pressure'
Ch Supt Gavin Thomas, vice president of the Police Superintendents Association, told BBC Radio 5 live that his immediate reaction to the figures was "disappointment", but said cuts to the police force were not helping the situation.
"We've got 35,000 fewer people in the police service since 2010, yet we're dealing with more complexity and more demand than ever before.
"So I suppose, in a way, I welcome this because what it does is indicate that we are starting to see a service that is starting to creak under the pressure."
The Home Office is currently reviewing police complaints procedures with the aim of simplifying the system and making it more transparent.