Alexander Litvinenko 'did not inadvertently poison himself'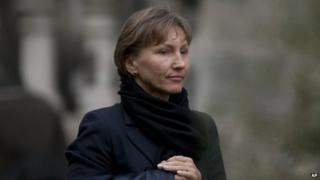 Former Russian spy Alexander Litvinenko did not accidentally kill himself after handling nuclear material, the inquiry into his death has heard.
His widow Marina rejected allegations that he had bought the radioactive substance polonium-210, saying he was a "very legal person".
She also told the court Mr Litvinenko had been warned he would be killed on different occasions.
Mr Litvinenko was a vocal critic of the Russian government and spy agency FSB.
The inquiry also heard from his son Anatoly, 20, on Tuesday. He said he felt "numb" after his father's death.
Mr Litvinenko, who fled to the UK in 2000 and had British citizenship, died nearly three weeks after drinking tea laced with polonium at a hotel in London in November 2006.
Two men - former KGB bodyguard turned politician Andrei Lugovoi and Dmitri Kovtun - were named as the main suspects in 2007. Both deny any involvement and remain in Russia.
'Illegal things'
Asked about the claims that Mr Litvinenko had acquired the polonium-210 himself, his widow said it was "not possible".
"It's illegal and he will not do any illegal things in this country," she said.
Mrs Litvinenko, giving evidence for a second day, told the Royal Courts of Justice the family had been subjected to harassment whereby a man claiming to be from the Russian embassy had made repeated visits to their north London home.
She described how their home was firebombed in 2004, as was a house across the road belonging to former Chechen rebel leader Akhmed Zakayev.
She also told of separate threats against her husband's life.
One came when a former FSB agent told him he would be killed, along with his son, before he left Russia, the court heard.
Mr Litvinenko was also warned in 2002, after the publication of his second book, Mrs Litvinenko added.
An email from a former colleague that was shown to the inquiry warned: "Get your will ready in advance."
'Absolutely devastated'
The inquiry has previously heard that Mr Litvinenko, 43, may have been poisoned with polonium twice.
Mrs Litvinenko told the court her husband had met Mr Lugovoi and Mr Kovtun in London on 16 October 2006, and had been ill that night.
On 1 November, after another meeting with the men, Mr Litvinenko started to vomit, and by the morning he told his wife he was unable to breath properly.
He was admitted to Barnet Hospital three days later and transferred to University College Hospital in central London when his condition worsened.
Mrs Litvinenko described how his hair started to fall out and how she was "absolutely devastated" by his appearance. The court heard she kept some of his hair.
She wept as she told the court that his final words to her were: "I love you so much."
Religious conversion
Mrs Litvinenko said her husband signed a statement on his death bed blaming Russian President Vladimir Putin for his death.
The inquiry heard how he also converted to Islam shortly before his death so he could be buried on Chechen soil. He had become sympathetic to the cause of Chechen separatists.
Later, Anatoly Litvinenko told the inquiry he did not know his father had worked for Russian intelligence services before coming to the UK, nor did he know that he had worked for Britain's security services.
Instead, he thought his father was a journalist writing for the Chechen press.
Anatoly Litvinenko also told the inquiry he had "never really believed" his father would die.
He said his death had hit him "hard" and left him "numb".