Student David Souaan jailed for Syria jihad plan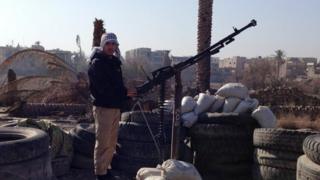 A Muslim student with "extremist views" who wanted to join fighters in Syria has been jailed for three and a half years.
Birkbeck College student David Souaan, 20, from Serbia, denied preparing for acts of terrorism but was convicted at the Old Bailey in London in December.
The prosecution said Souaan had been on his way to Syria to fight when he was arrested at Heathrow Airport in May.
In mitigation his lawyer said he had been "lonely and isolated" in London.
Souaan, who had visited Syria in December 2013, was arrested after fellow students became concerned at his radical views on Islam and pictures he had of himself posing with guns in Syria.
Police seized the student's laptop and phone and found pictures, videos and documents revealing his "extremist sympathies", the Old Bailey heard.
Prosecutor Sarah Whitehouse QC said one video clip on his phone, of a man's throat being cut, was "so graphic and so shocking" it could not be played in court.
'Emotionally immature'
She said a man, "probably Souaan", could be heard in the background of a video he had filmed at a demonstration saying: "The flag of Tawheed in London, all praise be to Allah the lord of the universe."
This was said by the prosecution to be a reference to the wish of extremists to see the black flag of Islamic State militants flying over Downing Street.
In mitigation, Souaan's lawyer, Ali Bajwa QC, said the defendant was an "emotionally immature and naive" young man.
He had been vulnerable because of the "loneliness and isolation" he felt as a foreign student living in London away from his family, Mr Bajwa said.
Sentencing him to be detained in a young offenders institution, Judge Peter Rook told Souaan his case was at the lower end of the scale but nevertheless serious.
He added that his praise for Islamic State came at a time before the organisation's character was known.