Prince Charles 'understands limitations' of Crown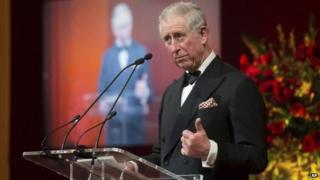 Prince Charles understands a monarch's "limitations" - despite "ill-informed" media speculation, an official says.
In a letter to the Times, William Nye, the prince's private secretary, said few people were "better placed" to know the role of a constitutional monarch.
He said the prince would be "inspired" by his mother's example if he was king.
The Times has serialised a biography of the prince by journalist Catherine Mayer, who claims he wants to redefine the UK monarchy.
The biography, Charles: Heart of a King, says: "In defining his role as heir apparent, the prince has signalled a redefinition of the monarchy.
"Some courtiers - and the [Queen] herself - fear that neither the Crown nor its subjects will tolerate the shock of the new."
The prince has publicly voiced views on various issues including grammar schools, complementary medicine and climate change.
In an editorial on Tuesday, the Times said "Britain has managed to stomach a prince with partiality, but it will not long stand for a meddling monarch".
It warned that, if he could not be impartial, "his kingship will be short and ugly, and very possibly not followed by another".
'Lifetime of service'
In his letter to the Times, Mr Nye wrote: "There has been ill-informed speculation recently, in your columns and elsewhere, about the attitude of the Prince of Wales to the role of sovereign.
"His Royal Highness has always preferred not to comment on matters which relate to a future whose date is unknown, and would arise only after the death of his mother.
"After half a century in public life, few could be better placed than His Royal Highness to understand the necessary and proper limitations on the role of a constitutional monarch.
"Should he be called to the throne, the Prince of Wales will be inspired by the examples of his mother and grandfather, while drawing also on his own experience of a lifetime of service."
A statement from Clarence House, London residence of the Prince of Wales and Duchess of Cornwall, said the biography was not authorised and the author did not have any exclusive access to the prince or his staff.
The prince's mother, Queen Elizabeth II, has been on the throne since 1952.