FGM trial: Prosecutors defend decision to charge acquitted doctor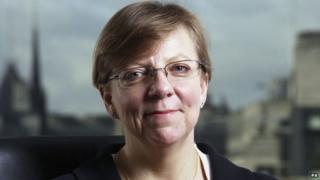 The case of a doctor found not guilty of carrying out female genital mutilation was "reviewed thoroughly" before it went to trial, the director of public prosecutions has insisted.
Alison Saunders told the BBC: "We prosecute the cases referred to us. We cannot go out and target anyone."
Dhanuson Dharmasena was cleared of performing the illegal procedure on a woman in a London hospital.
Dr Dharmasena said he was "extremely relieved" at the verdict.
He was tried alongside Hosan Mohamed, who was cleared of aiding and abetting him.
'Wrong case'
Mr Mohamed's lawyer, Ali Hussain, said on BBC Radio 4's Today programme: "It was the wrong case to be brought before the courts."
"The CPS [Crown Prosecution Service] in our view should have reviewed the case more thoroughly before the charges were brought."
Mr Hussein highlighted that his client had condemned female genital mutilation (FGM) in evidence as a "horrible practice" and added it was "absolutely right the prosecution should bring cases against people where there is evidence".
Speaking on the same programme, Ms Saunders said: "This case was reviewed very thoroughly and we decided there was sufficient evidence."
She pointed out that the defence had made three applications to stop the case, and the judge had decided it should go before a jury.
---
FGM cases in England and Wales
One prosecution - two defendants found not guilty
Three cases currently with CPS for consideration
Aware of four other cases under investigation but not yet passed to the CPS for consideration
Eleven cases in which the CPS have decided there could be no further action and no prosecution
One case in which police decided there could be no further action
Source: CPS
---
Asked whether the CPS was wrong to prosecute medical professionals, she said: "The legislation is designed to make FGM a crime no matter who commits it. It's not just about the original cutting of a girl."
She urged anyone who had undergone the procedure or knew someone who had to come forward in order to help put a stop to the practice.
FGM has been illegal in England and Wales for 30 years, but to date nobody has been specifically prosecuted for the offence.
What do doctors' guidelines say?
By Michelle Roberts, health editor, BBC News Online
There are clear guidelines for doctors about FGM and its management. They were published in 2003 and updated again in 2009 and follow the word of the law.
The law bans the cutting of a woman if the request is driven by tradition or ritual.
But it:
allows surgery to the external genitalia for comfort, sexual confidence, body image and self-esteem
says no offence is committed if the cutting takes place while a woman is giving birth, provided that the purpose is connected with the labour
The guidelines say all maternity healthcare workers must be familiar with FGM.
Gynaecologists and specialist nurses "should be aware of the physical and psychological implications of female genital mutilation".
They acknowledge that obstetricians and midwives may be asked to reinfibulate a woman - sew her back up to return her to her FGM state - following vaginal delivery.
But they say this should not be done.
Any repair carried out after birth, whether following spontaneous tearing or deliberate cutting/episiotomy (to widen the birth canal), should be "sufficient to appose raw edges and control bleeding, but must not result in a vaginal opening that makes intercourse difficult or impossible."
The guidelines also offer the World Health Organisation advice that the edges could be overstitched to prevent spontaneous closure of the birth canal as the tissues heal.