Myleene Klass brands birthday donation request 'bonkers'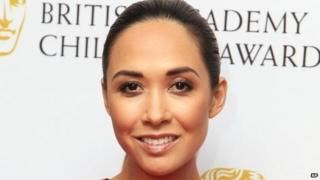 Singer Myleene Klass has poked fun at mothers of schoolchildren who suggested other parents contribute cash to buy birthday gifts for their offspring.
The Classic FM presenter said she had received an email in which a parent said her daughters would prefer a "class birthday gift" and suggested a £10 donation.
Ms Klass described the request as "bonkers".
And she posted her own mock email, asking for donations to buy a unicorn.
Ms Klass posted the email request she received on her Instagram account, but changed the names of those involved.
'Popular amount'
The message read: "Jane and Hannah would prefer a class birthday gift for their daughters this year.
"Sarah would like a kindle and Lola a desk, (very studious choices!!) so if you would like to join in, please can I collect a suggested £10 from you before the party on Feb 9th."
The email added: "Thanx and no obligation of course."
A second message added that £10 "seems to be a popular amount, but feel free to give what you like or indeed, to give your own gift."
Instagram users described the request as "cheeky" and "rude".
Unicorn donations
In a reply posted on the site Ms Klass, the former Hear'Say singer who lives in north London, asked for help to buy a "real, live Unicorn" for her daughter via a fictitious address.
She asked others to contribute via her daughters' book bag or www.getwhatyouregivenandendthismadness.com.
She added: "Additionally I'd like a Ferrari and Leonardo DiCaprio, so by all means, do feel obligated to contribute to this too."
And she concluded: "If you don't wish to, please don't feel any pressure from the countless emails I intend to follow this up with and clog your inbox."
Last month, a father revealed he had been sent an invoice for failing to give notice that his five-year-old son would not be attending a birthday party.
Derek Nash said the birthday boy's mother sent him an invoice for £15.95 after his son did not attend.
She claimed Mr Nash had left her out of pocket and had not informed her that his son Alex would not be attending.