Third of police helicopter bases in England and Wales could close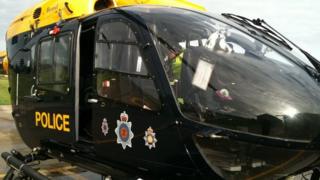 One-third of police helicopter bases in England and Wales could be closed because of government funding cuts, the BBC has learned.
The National Police Air Service (NPAS) is considering plans to reduce the number of its bases from 20 to 15.
There are currently plans for three more to be made available by September 2016, taking the total to 23.
But the accountable manager for the NPAS said "difficult decisions" had to be made because of funding cuts.
'Difficult decisions'
The NPAS was launched in October 2012 to co-ordinate the deployment of police helicopters, which were then operated by individual forces from 30 bases.
It has 22 helicopters and serves forces across England and Wales, including British Transport Police. The Metropolitan Police, Dyfed-Powys Police and Humberside Police are all due to join the NPAS by the end of next year.
The NPAS says it is facing funding cuts of 14% in the next three years, in addition to the 23% savings already made by establishing the shared service.
The accountable manager for the NPAS, Chief Superintendent Ian Whitehouse, said: "There is no easy way to do this and difficult decisions have to be made.
"A benefit of the NPAS is that we have a far greater understanding of the demands placed upon police aviation and how to approach 'borderless tasking' i.e. how we best deploy the assets at our disposal to improve efficiency and effectiveness even more."
The lead force for the NPAS is West Yorkshire Police.
The 20 current bases
Birmingham Airport, Birmingham
Halfpenny Green, Wolverhampton
Husbands Bosworth, Leicestershire
Ripley, Derbyshire
Carr Gate, Wakefield
Durham Tees Valley Airport
Newcastle Airport
Sheffield, South Yorkshire
Barton - Greater Manchester
Hawarden - Flintshire, North Wales
Rhuddlan, Denbighshire, North Wales
St Athan, South Wales
Warton - Lancashire
Benson - Oxfordshire
Boreham Airport - Essex
Redhill - Surrey
Wattisham - Suffolk
Bournemouth Airport, Bournemouth
Exeter Airport, Exeter
Filton, South Gloucestershire