Julian Assange security 'sucking Met Police resources'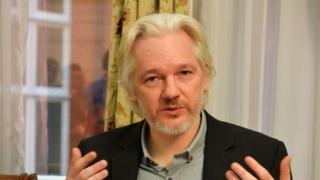 Security costs for Wikileaks founder Julian Assange are to be reviewed, Metropolitan Police Commissioner Sir Bernard Hogan-Howe has said.
Maintaining a guard for Assange at the Ecuadorean Embassy in central London has cost £10m, according to figures disclosed to LBC radio.
The commissioner told the broadcaster his force was exploring how to provide security differently.
Sir Bernard said the ongoing operation was "sucking our resources".
Mr Assange has been at the embassy since June 2012 and faces arrest if he leaves the site on allegations he sexually assaulted two women in Sweden, which he denies.
Sir Bernard said: "We won't talk about tactics but we are reviewing what options we have. It is sucking our resources."
Between June 2012 and October 2014, direct policing costs were £7.3m, with £1.8m spent on overtime, police said.
Scotland Yard confirmed the cost of the operation to UK taxpayers in the first 28 months, until 31 October last year, had reached £9m.
The Metropolitan Police said the costs were covered by the budget for diplomatic protection, which provides policing for embassies in the UK.
The cost of a further three months policing is now expected to have taken the total bill to about £10m.
The figures - which equate to more than £10,000 a day - were obtained under the Freedom of Information Act.
Sir Bernard also specified in his interview that the Metropolitan Police will need to find up to £800m of savings over the coming years, on top of £600m cuts already made.