World Cup tickets: Ray Whelan illegal sales charges dropped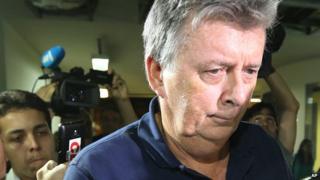 There is insufficient evidence to prosecute the British boss of a Fifa partner firm over alleged illegal World Cup ticket sales, a court has ruled.
The court in Rio de Janeiro cited the "ineptitude" of the case against Ray Whelan, director of Match Hospitality.
The company had been licensed by Fifa to sell match tickets for the 2014 World Cup in Brazil as part of hospitality deals.
Both the company and Mr Whelan had denied any wrongdoing.
In a statement released on Tuesday, the court said Mr Whelan would not face charges.
It said police erred in collecting evidence and worked "in haste".
The court said it was continuing with cases against 11 others facing similar charges.
In July 2014 Mr Whelan turned himself in to a judge in Brazil after police claimed he had fled arrest.
Based in Zurich and Cheadle, Cheshire, Match Hospitality describes itself as "the professional services company appointed by Fifa to provide ticketing, accommodation and event information technology services to Fifa".
An international gang is suspected of acting at as many as four World Cups, earning about $90m (£52m) per tournament.
Fifa warned repeatedly about the illegal sale of tickets during the 2014 World Cup.