Fifth of sex attack victims 'asleep or unconscious'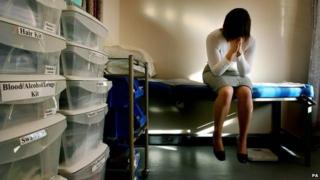 One in five serious sexual assaults targets someone who is unconscious or asleep, an official analysis suggests.
The analysis of crime survey and police statistics for 2013-14 in England and Wales was carried out by the Office for National Statistics (ONS).
Sex offences recorded by police rose to 64,205 - the most since 2002-03 - while the number of victims in the crime survey fell slightly.
But the ONS said there was a "greater willingness" overall to report abuse.
It said the rise in reported attacks was "thought to reflect" better recording and victims being more willing to report sexual offences.
The data also suggests that in more than half the cases, physical force had been used to try to make the victim have sex with them. One in 10 victims reported that the offender had choked or tried to strangle them.
Sex assaults 2013-14
64,205
Highest number of sex offences recorded by police since 2002-3
For serious sexual assaults:
1 in 5 victims was asleep or unconscious

1 in 10 said their attacker had tried to choke or strangle them

17% of victims had reported most recent assault to police
Thinkstock
Only 17% of victims said they had reported the most recent serious sexual assault to the police.
Across all violence against adults - an estimated 1.3 million incidents in 2013/14 - 53% of victims surveyed said they thought the offender was under the influence of alcohol.
'Attitude questions'
The new statistics are based on ONS and Home Office analysis of the 2013-14 Crime Survey for England and Wales and police recorded crime for the same period.
Unlike recorded crime, which only includes offences known about by police, the survey measures crime by asking people from a sample of 50,000 households whether they have experienced any in the past year.
The ONS data includes responses to "attitudes" questions asked as part of the crime survey.
These responses showed that a sizeable number of those who replied thought victims of rape or sexual assault were "completely", "mostly" or "a bit" responsible for the attack if they were drunk (26%), or had been flirting with the attacker beforehand (36%).
The report also includes a final figure of 526 for recorded homicides in 2013-14 - the lowest number since 1989.
This includes murder, manslaughter and infanticide - the killing of children under a year old.
The report said that, "as in previous years", children under a year old were the most likely group to be homicide victims.
It also said:
two thirds of homicide victims were male
female homicide victims were much more likely to be killed by a current or former partner - this accounted for 46% of the women killed, compared to 7% of men
in addition to deaths at the hands of partners, 40% of male homicide victims were killed by people they knew, compared to 8% of women