Nick Clegg: Lib Dems would protect education spending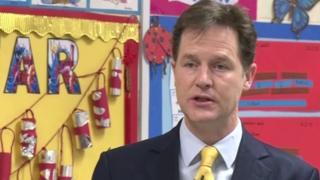 The Liberal Democrats would protect education spending in England if they are in government after the general election, Nick Clegg has said.
In a speech at a school in Oxford, he said the party would also cut the deficit, improve the NHS, protect the environment, and ensure fairer taxes.
"Five promises for the next five years that is the Liberal Democrat agenda for government," the deputy PM added.
Labour has also said it would protect the education budget if it wins power.
Party leader Ed Miliband has also outlined plans to stop infant classes having more than 30 pupils in them for longer than a year.
The Conservatives said Mr Miliband's policy did not add up to much and, on class sizes, "had collapsed within minutes".
David Cameron has pledged that the Conservatives would protect England's schools budget in cash terms, but per pupil funding would not keep pace with inflation.
'Relentless'
The Lib Dem policy to protect spending from nursery to college level over the course of the next Parliament features on the front page of the Lib Dem manifesto.
It also includes pledges to balance the budget "fairly", raise the tax-free allowance to £12,500 and invest £8bn in the NHS.
In his speech, Mr Clegg said education had been at the top of the Liberal Democrats' agenda in government.
The party had been "relentless in making sure that children's life chances are "at the heart" of coalition policy, he added.
"Nothing is more important to creating a fairer society where everyone has the opportunity to reach their potential," he said.
Looking to the future, Mr Clegg pledged: "We will protect not only the schools budget in real terms, but the funding for early years and colleges too. We will make sure that every child is taught by a qualified teacher.
"We will triple the extra funding that goes to children from the poorest backgrounds in nursery. And we will give every primary school child a hot, healthy lunch to help them learn."
Mr Clegg said: "Other parties will have their own priorities. And for that reason we know that we cannot take the progress we have made in education for granted."
He said the Conservatives planned deeper spending cuts than necessary in the next parliament, which would mean a real-terms cut to the schools budget, as well as to funding for early years and colleges.
Labour, he continued, would borrow more and "waste £4bn" on debt interest payments - money, he said, which could be better spent on schools and hospitals.
Class sizes
Earlier, party sources said the policies did not constitute "red lines" for coalition talks, but they would fight "tooth and nail" to deliver them if they were part of the next government.
"These are our absolute top priorities. These are the priorities that we will fight with every breath we have to deliver. We'd expect to deliver them in a coalition," one source said.
The Lib Dem education pledge came on the same day Labour promised to increase spending on education by at least the rate of inflation if it wins the coming election.
Mr Miliband also pledged to tighten rules in state infant schools in England to stop class sizes being more than 30 for longer than a year.
The previous Labour government capped pupil numbers at 30 - but there have been some exemptions which have been extended by the coalition.
Responding to Mr Clegg's speech, CBI Deputy Director-Genera Katja Hall said funding alone would not guarantee quality, and emphasised the need for reforms to the education system.
"Extending the freedoms for headteachers that we see in academies to all school leaders will enable them to innovate and drive change.
"But this needs to go hand-in-hand with reforms to the Ofsted framework to take into account how well a school is supporting this broader development of pupils, more high-quality technical and vocational courses and strong careers advice," she said.