Inquiry into British war graves attack in Libya delayed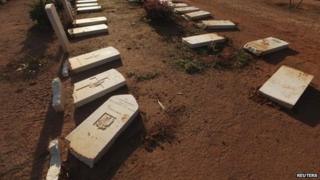 Investigations into attacks on British war graves in Libya have been prevented by security and political problems, the government has said.
Some 200 graves were damaged in The Commonwealth War Graves Commission Cemetery and the Benghazi Military Cemetery in February and June 2012.
The cemeteries commemorate British and Commonwealth nationals who died during or after World War Two.
Foreign Office minister Tobias Ellwood said the attackers' motive was unknown.
"The attacks appear to have been carried out by extremist individuals," he said in response to a parliamentary question from Conservative MP Andrew Stephenson.
"The authorities are unable to conduct investigations due to the current political and security situation."
'Sites restored'
Mr Ellwood said religious sites in Libya had also been attacked since 2011, including Islamic sites.
More than 1,200 Commonwealth military personnel are buried in the eastern city of Benghazi, with 851 British among 1,051 identified graves.
Mr Ellwood said the sites had since been restored to a "standard befitting the sacrifice of those commemorated" in Benghazi - thanks to help from the Commonwealth War Graves Commission.
He added there was now a patrol and guard, which he hoped would prevent further attacks.
Conservative MP Keith Simpson, of the Commonwealth War Graves Commission, said repairs to graves at sites in the Middle East had to be carried out on a "case-by-case assessment" - and with respect to regional sensitivities.
"The bottom line and the important thing is the security of local staff," he said.