Litvinenko inquiry: Russians' associate 'had mystery illness'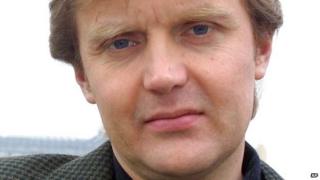 A retired British army officer had a "mystery illness" after meeting with two men suspected of poisoning ex-FSB officer Alexander Litvinenko with polonium-210, an inquiry has heard.
Tim Reilly, a director at security firm Erinys, suffered migraines and vomiting after meeting Russians Andrei Lugovoi and Dmitri Kovtun with Mr Litvinenko.
He said Mr Lugovoi called him after Mr Litvinenko's death to deny involvement.
"Heaving" radiation levels were later found in the London firm's boardroom.
Mr Litvinenko, a former Russian security service officer who became a vocal critic of the Kremlin and fled to Britain, died of radiation poisoning after drinking tea laced with polonium at a Mayfair hotel in November 2006.
The barrister representing Mr Litvinenko's family claims he was murdered for trying to "expose the corruption" at the heart of Vladimir Putin's "mafia state".
The public inquiry into his death has heard that Mr Litvinenko have been poisoned twice - with one occasion around the time of the security company meeting in October of 2006.
Mr Reilly told the hearing he became "very ill" around the time of the meeting.
"I went home ... unusually for me I got home about 19:30 GMT and I went to bed. I had migraine symptoms. I threw up," he said.
"I've never had an illness like it before and I've never had one since."
Atomic weapons experts later found "heaving" levels of radioactive contamination in the boardroom at Erinys, leading to the offices being closed for four months, the court heard.
'Clumsy weapon'
Mr Reilly, a former British army officer with the Parachute Regiment, who speaks fluent Russian, said that after news of Mr Litvinenko's death on 23 November, Mr Lugovoi called him from the British embassy in Moscow.
The ex-KGB bodyguard told him he had "nothing to do with" the murder, before turning the conversation to business matters, Mr Reilly said.
Mr Litvinenko had introduced Mr Reilly to Mr Lugovoi as a Russian contact who might be able to broker a meeting with senior executives at the Russian gas giant Gazprom, with a view to discussing a security contract.
Mr Reilly said he had been "pretty stunned" to learn that Mr Litvinenko, who was also working for British intelligence services at the time, had been poisoned.
He said it struck him that the "nature of the weapon" was of a "state asset" and its use in this case had been "clumsy".
"My conclusion from that weapon was that it was a signal on behalf of somebody, not necessarily just for poor Sasha and his family, but to a wider Russian community abroad," he said.
Both Andrei Lugovoi and Dmitri Kovtun deny any involvement in the murder, and remain in Russia.
---
The Litvinenko case
23 Nov 2006 - Litvinenko dies three weeks after having tea with former agents Andrei Lugovoi and Dmitri Kovtun in London
24 Nov 2006 - His death is attributed to polonium-210
22 May 2007 - Britain's director of public prosecutions decides Mr Lugovoi should be charged with the murder of Mr Litvinenko
31 May 2007 - Mr Lugovoi denies any involvement in his death but says Mr Litvinenko was a British spy
5 Jul 2007 - Russia officially refuses to extradite Mr Lugovoi, saying its constitution does not allow it
May-June 2013 - Inquest into Mr Litvinenko's death delayed as coroner decides a public inquiry would be preferable, as it would be able to hear some evidence in secret
July 2013 - Ministers rule out public inquiry
Jan 2014 - Marina Litvinenko in High Court fight to force a public inquiry
11 Feb 2014 - High Court says the Home Office had been wrong to rule out an inquiry before the outcome of an inquest
July 2014 - Public inquiry announced by Home Office
---