Justice Sweeney defends decision to change Sun retrial judge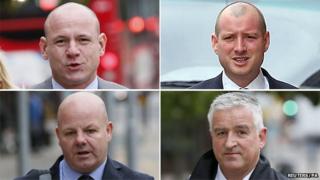 The introduction of a new judge for the retrial of four Sun employees accused of paying officials for stories has been defended by a top judge.
A jury failed to reach verdicts on some charges last month, prompting prosecutors to seek a retrial.
Defence lawyers had questioned the decision to bring in a new judge for the retrial, arguing there was "something going on behind the scenes".
But presiding judge Mr Justice Sweeney dismissed their concerns as "absurd".
Former head of news at the Sun, Chris Pharo, ex-deputy news editor Ben O'Driscoll, reporter Jamie Pyatt and former managing editor Graham Dudman deny conspiring to commit misconduct in a public office.
Their original trial at Kingston Crown Court lasted three months, overseen by Judge Richard Marks.
The retrial will be presided over by Judge Charles Wide.
'Cause for concern'
Judge Marks commented to barristers in an email last week: "It has been decided (not by me but by my elders and betters) that I am not going to be doing the retrial."
The defendants' lawyers said the email had given them "cause for concern".
They submitted that the "usual procedure is that the same judge conducts the retrial" and they had had a "legitimate expectation" that would be the case.
But Mr Justice Sweeney, who presides over the south-eastern court circuit, issued a statement at the Old Bailey in which he described their view as "misconceived".
He added: "It is a sad day when it is suggested... there was a real possibility a judge had deliberately taken a decision to inappropriately favour one side over another.
"Judge Wide was not chosen, or approved... to improve the prospects of conviction of these defendants."
The move was an administrative one and replaced "one fair judge by another fair judge", he said.
Judge Marks' email had been supposed to be "light-hearted", he said.
The prosecution is part of Scotland Yard's Operation Elveden.