Litvinenko inquiry: Ex-spy 'investigating Stolichnaya vodka row'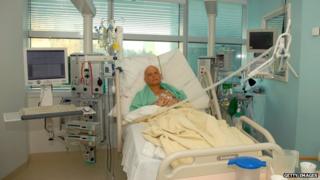 Poisoned spy Alexander Litvinenko was looking into a row over a vodka brand before his death, an inquiry has heard.
Ex-FSB officer Mr Litvinenko was investigating a dispute over who owned Stolichnaya vodka, investigator Daniel Quirke told the inquiry into the death.
He was asked to find intelligence on Russian minister Alexei Gordiev's involvement in the row he said.
Mr Quirke also told how Mr Litvinenko had been "spooked" by the 2006 shooting of journalist Anna Politkovskaya.
Mr Litvinenko, a former Russian security service officer who became a vocal critic of the Kremlin and fled to Britain, died of radiation poisoning after drinking tea laced with polonium at a hotel in London's Mayfair in November 2006.
The barrister representing Mr Litvinenko's family claims he was murdered for trying to "expose the corruption" at the heart of Vladimir Putin's "mafia state".
Mr Litvinenko was working for British intelligence agencies as well as private investigation firms during his time in the UK, the inquiry has heard.
Mr Quirke, who worked for private security and investigations firm Risc Management, told the inquiry how Mr Litvinenko had been investigating a business dispute over Stolichnaya vodka, which involved the Russian government.
A client of Risc Management had wanted information on Mr Gordiev's intentions over the row, he said.
'Scared of the state'
"The client wanted to know what kind of people they would be up against in the courts, were they going to pursue them, could it be stalled, what was going to happen in the long term," Mr Quirke said.
Mr Litvinenko had identified Mr Gordiev as being "corrupt", the inquiry heard.
Mr Quirke also told the inquiry how Mr Litvinenko had been "scared of the state apparatus of Russia".
He was scared of Putin and believed he was a "marked man," he added.
Mr Quirke described Mr Litvinenko, who fled Russia in 2000 to seek asylum in the UK, as "security conscious" and was once spotted pacing up and down the street outside Risc's offices "trying to throw off any tail that might be on him".
He also told the public inquiry how Mr Litvinenko had told him that Russian journalist Ms Politkovskaya had visited the headquarters of the Russian Security Service, the FSB.
While there she she had been invited to fire a pistol in a shooting range but found the target had Mr Litvinenko's face on it.
Mr Litvinenko believed this was a message to him, as the FSB knew Ms Politkovskaya was a friend of his, Mr Quirke said.
Ms Politkovskaya, a leading critic of the Kremlin, was shot near her flat in Moscow in October 2006.
---
The Litvinenko case
23 Nov 2006 - Litvinenko dies three weeks after having tea with former agents Andrei Lugovoi and Dmitri Kovtun in London
24 Nov 2006 - His death is attributed to polonium-210
22 May 2007 - Britain's director of public prosecutions decides Mr Lugovoi should be charged with the murder of Mr Litvinenko
31 May 2007 - Mr Lugovoi denies any involvement in his death but says Mr Litvinenko was a British spy
5 Jul 2007 - Russia officially refuses to extradite Mr Lugovoi, saying its constitution does not allow it
May-June 2013 - Inquest into Mr Litvinenko's death delayed as coroner decides a public inquiry would be preferable, as it would be able to hear some evidence in secret
July 2013 - Ministers rule out public inquiry
Jan 2014 - Marina Litvinenko in High Court fight to force a public inquiry
11 Feb 2014 - High Court says the Home Office had been wrong to rule out an inquiry before the outcome of an inquest
July 2014 - Public inquiry announced by Home Office
---