Army 'needs to help more women to reach top roles'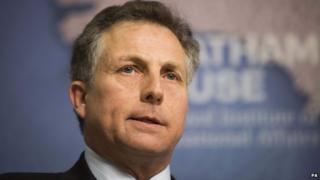 The Army needs to be restructured to allow more female soldiers to rise to senior posts, its top officer has said.
Gen Sir Nicholas Carter, the chief of the general staff, said the Army would need to recruit more women to bring in the numbers it needs in the future.
But the Army had fundamentally a "male career structure" that encouraged women to leave rather than stay, he said.
Speaking in London, he also repeated his call to recruit more personnel from ethnic minorities.
The Army career structure has "a number of break points which sadly encourage women to leave rather than encouraging them to stay.
'Maximise the talent'
"What we have got to do is to have a career structure that genuinely provides women to pull right through to the top of the Army so that we maximise the talent that is available in 51% of our society," he said at the Chatham House foreign affairs think-tank.
Gen Carter said the changing make-up of the UK's population meant that around one in four new recruits would also need to be drawn from ethnic minorities in the next five years.
Earlier this month, he said the Army needed to "draw talent from all of the society we represent" to find the best recruits.
Repeating that call, he said senior officers had to think "much harder about the way in which we embrace the consequences of diversity and the way in which we change the organisation to be one that reaches out to all types of British society".
"Demography is changing. The traditional cohort whence we recruited - 16 to 25 year olds, white Caucasian - is shrinking," he said.
"The plain fact is to replace that we will have a challenge in about five years' time that probably 25% of our recruits will need to come from the black-Asian minority ethnic community."
He also said the need for greater diversity meant the culture of the service would have to change in order to stamp out bullying and harassment.
"It is not good enough that we still have significant numbers of complaints of bullying, harassment and discrimination. These are areas that we genuinely have to attend to," he added.