Litvinenko inquiry: Highest radiation levels in suspect's hotel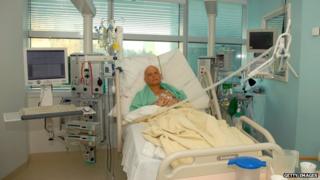 The highest level of radiation found during the investigation into Alexander Litvinenko's death was recorded in a hotel stayed in by one of his suspected killers, an inquiry has heard.
Andrei Lugovoi stayed alone at London's Sheraton Park Lane hotel from 25 to 28 October 2006. Mr Litvinenko died the following month.
Mr Lugovoi remains in Russia with Dmitri Kovtun, who is also a suspect.
The pair have always denied poisoning the ex-KGB officer with polonium-210.
Det Insp Craig Mascall told the public inquiry into Mr Litvinenko's death that traces of radioactivity were found throughout the Sheraton, including on towels, in the laundry chutes and in Mr Lugovoi's room.
The highest levels in the whole investigation were found on the towels, Mr Mascall told the London hearing.
The inquiry heard a chauffeur-driven car used by Mr Lugovoi for a journey out of London on 26 October also had traces of radioactivity, as did the British Airways plane used by him to fly from Moscow to London.
Mr Litvinenko, a former Russian security service officer who became a vocal critic of the Kremlin and fled to Britain, died on 23 November 2006 at University College Hospital.
Just over three weeks earlier he had drunk tea laced with polonium in the presence of Mr Lugovoi and Mr Kovtun at the Millennium hotel in Mayfair.
The inquiry continues.
---
The Litvinenko case
23 Nov 2006 - Mr Litvinenko dies three weeks after having tea with former agents Andrei Lugovoi and Dmitri Kovtun in London
24 Nov 2006 - His death is attributed to polonium-210
22 May 2007 - Britain's director of public prosecutions decides Mr Lugovoi should be charged with the murder of Mr Litvinenko
31 May 2007 - Mr Lugovoi denies any involvement in his death but says Mr Litvinenko was a British spy
5 Jul 2007 - Russia officially refuses to extradite Mr Lugovoi, saying its constitution does not allow it
May-June 2013 - Inquest into Mr Litvinenko's death delayed as coroner decides a public inquiry would be preferable, as it would be able to hear some evidence in secret
July 2013 - Ministers rule out public inquiry
Jan 2014 - Marina Litvinenko in High Court fight to force a public inquiry
11 Feb 2014 - High Court says the Home Office had been wrong to rule out an inquiry before the outcome of an inquest
July 2014 - Public inquiry announced by Home Office
---