Brusthom Ziamani trial: Jury considers 'plot to behead soldier'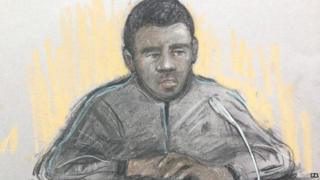 The jury in the trial of a teenager accused of planning to behead a British soldier has retired to consider its verdict.
Brusthom Ziamani is alleged to have had a bag containing a 12in knife, a hammer and an "Islamic flag" when he was arrested in east London in August 2014.
He had been inspired by the murder of Fusilier Lee Rigby in 2013, the jury at the Old Bailey trial has heard.
Mr Ziamani, 19, of Camberwell, London, denies preparing an act of terrorism.
During the trial, jurors were told how Mr Ziamani is alleged to have "reverted" to Islam at the beginning of 2014 and was arrested after he showed his ex-girlfriend weapons.
Prosecutors say he had researched Army cadet base sites and told his ex-girlfriend of a plan to "kill soldiers".
Facebook posts
They say he was was arrested as he made his way to behead a British soldier.
The court heard how he had fallen in with members of al-Muhajiroun - an extremist organisation - after he was "kicked out" of home for converting to Islam in early 2014.
He is alleged to have attended the group's talks in the basement of a Halal sweet shop in Whitechapel, London, and bought a black flag to take on their demonstrations, saying "I'm going to rock it everywhere I go in the Kaffirs' face".
After learning about the Muslim religion, he posted comments on Facebook saying that he was "willing to die in the cause of Allah" and saying: "Sharia law on its way on our streets. We will implement it, it's part of our religion."
However, Mr Ziamani told the trial how he had expressed extremist views to "fit in" with a Muslim group.
He told the jury that members of the group had given him money, clothes and a place to stay after his parents, who are Jehovah's Witnesses, threw him out of the family home.