Abid Naseer trial: MI5 agent gives evidence in long wig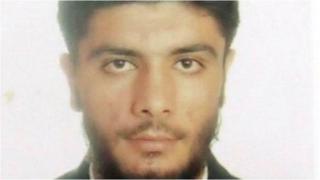 An MI5 agent has given evidence in a shoulder-length wig and glasses in the trial of a man accused of involvement in a transatlantic attack plot.
Abid Naseer, 28, has denied involvement in an al-Qaeda conspiracy to attack Manchester and New York.
The court in New York heard that Agent 1603 was spying on Abid Naseer in the weeks before his arrest in 2009.
His evidence was recorded last month and played in court in Brooklyn as part of the prosecution's case.
The MI5 spy said he followed Abid Naseer onto a coach and observed him watching a video of the 9/11 attacks on his mobile phone.
Other British spies are expected to be called to give evidence next week.
Concealment plan
All have been told they can wear wigs and make-up in an attempt to conceal their identities.
Mr Naseer is accused of being part of an international al-Qaeda plot to try to recreate the devastation of the 11 September attacks.
Prosecutors allege Mr Naseer was part of a conspiracy planning bomb attacks in multiple places, including Manchester and New York's subway system.
They claim he was planning a suicide bomb attack at the Arndale Centre in Manchester when he was arrested in April, 2009.
He denies all the charges he faces and is representing himself at the trial.